Pediatric Residency Program
Welcome! Thank you for your interest in the Crozer Pediatric Residency Program. Our unique combination of a core program in a community hospital and a tertiary care academic experience through an educational partnership with the premier Nemours/Alfred I duPont Hospital for Children, offers an exceptionally well rounded pediatric education.
Our residents are well versed in social determinants of health and serve a vulnerable population through trauma-informed care. They are proud community partners and advocates, leveraging their relationships, knowledge and skills in support of children and families in our Delaware County community and beyond.
Our program is rooted firmly in academics, with opportunities for clinical, quality, and educational scholarship and participation in local, regional, and national meetings. Notably, Crozer-Chester Medical Center is a regional medical campus for Drexel University College of Medicine (DUCOM), with a cohort of DUCOM medical students spending their entire third year embedded in learning at the Crozer-Chester Medical Center campus.
We pride ourselves in having a warm, collegial atmosphere among learners and faculty, and this close relationship fosters active and ongoing mentorship which has resulted in a near perfect fellowship placement statistic and highly sought-after employment opportunities for our graduates. Our residents are not only successful professionally, but also have a strong foundation in wellness and respect for a healthy work-life balance. We strive to support our residents personally as well.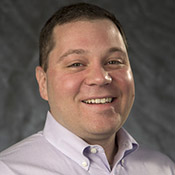 Sincerely,
Ryan Mascio, D.O., FAAP
Pediatric Residency Program Director
Learn More
Contact Us
Kelli Taylor, MBA
Pediatric Residency Program Coordinator
Department of Pediatrics
Crozer-Chester Medical Center
1 Medical Center Boulevard, East Wing, Third Floor
Upland, PA 19013-3995
Phone: 610-447-6680
Fax: 610-447-6677
E-mail: kelli.taylor@crozer.org
For Sub-I or rotation inquiries, please contact:
Maureen Antonelli
Administrative Assistant, Department of Pediatrics
Email: maureen.antonelli@crozer.org