Nurses' Perspectives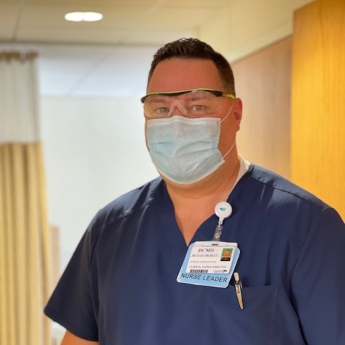 Nick Brunetti, BSN, R.N.
I love working at Crozer Health because of the daily interactions with everyone from the facility. On a routine day I am able to interact with every department from patient transport to the CNO here at Delaware County Memorial Hospital. Everyone is dedicated to quality patient care and very friendly.
I would strongly recommend that friends and past co-works of mine consider becoming part of the Crozer Health team. This is a unique facility where there are tremendous opportunities for growth, but you also feel empowered to communicate any ideas to improve the workplace. These ideas are actually heard all of the way up the chain of command which encourages employees to be proactive in constantly trying to improve the workplace.
I immediately felt a sense of comfort and belonging as everyone that I had encountered during my interview. Working at Crozer Health has definitely empowered and provided me with opportunities to grow as a nurse as well as a leader.
- Nick Brunetti, BSN, R.N.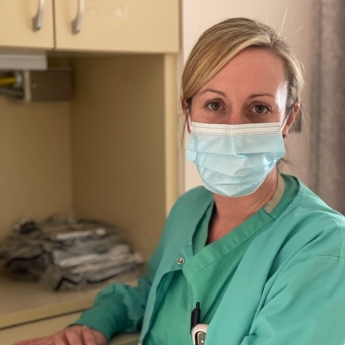 Jessica Daly, BSN, R.N.
Crozer Health helped me achieve my BSN by providing tuition reimbursement. I worked and was able to obtain my goal without the burden of school loans.
I enjoy working for Crozer Health because everyone works as a team. Those I work with are not just my coworkers, they are my family. We come together each day to give our patients the best experience we can and help each other along the way to make it happen.
I find joy in being able to take care of people in their time of need and having the ability to educate and give them the knowledge to make their surgery a success.
- Jessica Daly, BSN, R.N.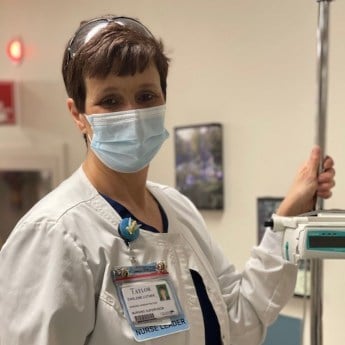 Darlene Luther, MHSA, BSN, R.N.
I have been at Taylor over half of my life. I came to be closer to my family but soon found a new extended family. Taylor has always been about community and family to me. My favorite part of my day is when I see a patient or family that I took care of and they ask, "Are you still here?"
I started as a staff nurse in 1988 and have been at Taylor for 33 years. In 1991, I took an Assistant Nurse Director position for the Rehabilitation Unit and the Medical Surgical units and when the Nursing Director left, I was promoted. With the birth of my first son in 1997, I became a PRN Nursing Supervisor. In 2000, I took a weekend supervisor position and have been in it since.
I graduated from nursing school in 1986 from Temple University and received my Master's in Health Service Administration from St Joseph's College in Maine.
- Darlene Luther, MHSA, BSN, R.N.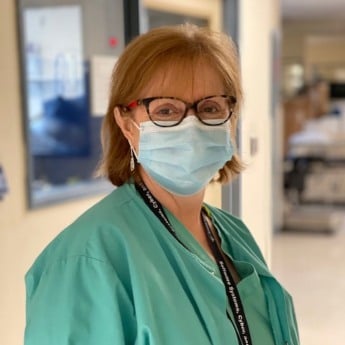 Janet McGraw, BSN, R.N.
I joined Crozer Health due to a recommendation by a friend who worked at DCMH. I attended an open house and started out per diem in the surgicenter/6EAST/PACU. I moved up to part time, then full-time. I was welcomed with open arms.
I just had my 20-year anniversary! I stayed because I love what I do and my coworkers are like family. I also love my 2-mile commute!
- Janet McGraw, BSN, RN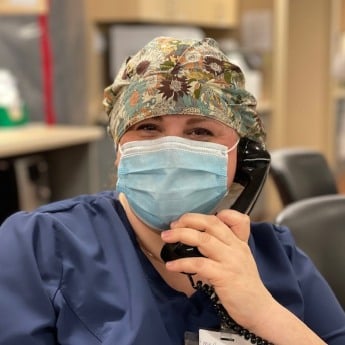 MaryBeth Russell, R.N.
I enjoy my co-workers. I think we have a fantastic group of people here at DCMH. I look forward to my interactions with all of my fellow nurses, directors, respiratory therapists, PCTs, housekeeping, transporters, etc. They are the reason I love my job.
DCMH is like a family, everyone knows one another and it makes coming to work a joyful experience.
- MaryBeth Russell, RN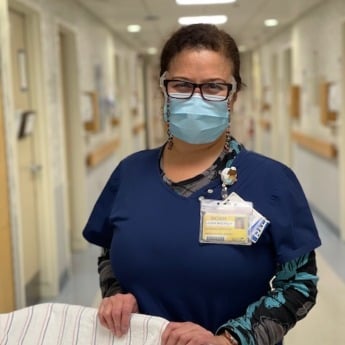 Laura J. Walbach, BSN, RNC
I joined Crozer Health for its community involvement and reputation in Delaware County. I stay for personal and career growth, and involvement in my unit.
I am proud of our investment in administering COVID-19 vaccines.
The general atmosphere in the hospital and health system promotes employee and community camaraderie; we are one big family.
- Laura J. Walbach, BSN, RNC