Global Neurosciences Institute at Crozer
It's Your Brain. It's Personal.
Health care has changed. It has become a system of specialists, each with a narrow focus. But that doesn't work for us. We believe that you deserve more. That's why we specialize in patient care, not health care. We see you as a complete person, and we become your devoted advocate. Our team of neurosurgeons, neurologists and researchers are inventing treatment, restoring patient confidence and saving lives. No compromise. Just thinking of you.
A New Era of Neuroscience
Global Neurosciences Institute at Crozer utilizes advanced research and treatment technologies to deliver comprehensive patient-centered neurosurgery and neurology services with an integrative, multidisciplinary approach.
Global Neurosciences Institute (GNI) is an innovative team of nationally recognized and highly trained neurosurgeons, subspecialty neurologists and neurosciences researchers. We are improving treatments by inventing groundbreaking therapies and pioneering new surgical techniques, while always keeping our patients at the forefront.
State-of-the-art biplane imaging technology, a specialized Neurologic Emergency Department and a dedicated Neurologic Intensive Care Unit combine with the clinical expertise of Global Neurosciences Institute to allow us to offer unparalleled care to patients.
Global Neurosciences Institute at Crozer serves as a premier provider of comprehensive, integrated neurosciences care in the tri-state region by streamlining care and delivering optimal outcomes for patients.
To learn more or schedule an appointment, please call 1-866-NEURO-DR (1-866-638-7637).
Our Specialties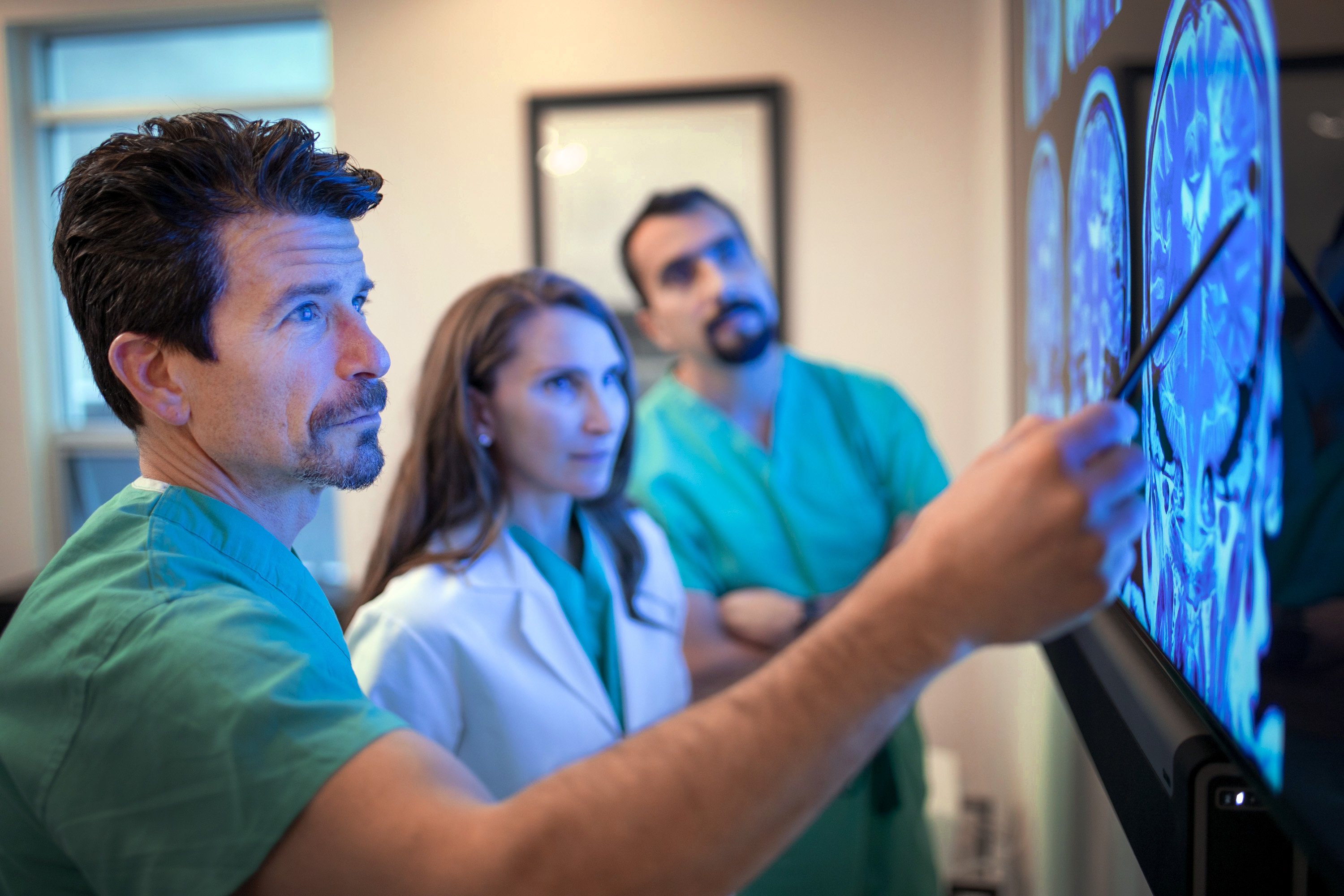 We are an innovative team of neurosurgeons, subspecialty neurologists, and neurosciences researchers working together to eliminate barriers between narrowly focused medical specialties to enable complete, patient-centered care.
Neurosurgery
Our skilled endovascular vascular, spine and tumor neurosurgeons offer a full range of conventional and minimally invasive surgical treatment options for diseases and conditions of the brain and spine. Our surgeons are available 24/7 to perform emergent, life-saving procedures for patients.
We provide novel surgical treatments not available elsewhere in the region, improving quality of life and enhancing the recovery process.
Neurology
Our fellowship-trained neurologists represent a diverse range of subspecialties to provide patients with access to the latest procedures and most advanced technologies, treating a variety of neurological conditions.
Our Quality Measures
Quality measures are tools that help us measure our healthcare processes, outcomes, and organizational structures that are associated with the ability to provide high-quality health care. Learn more about how GNI at Crozer's outcomes compare to our peers.
Learn More about our Neurologic Services
Diagnostic Testing
Evaluating and diagnosing conditions affecting the brain, spine and nervous system is complicated and complex. We use the following tests to accurately diagnose each patient's condition and build the best care plan possible.
Specialty Clinics
Normal Pressure Hydrocephalus (NPH) Clinic: This unique clinic includes specialists in neurosurgery, cognitive neurologists, and specially trained physical therapists who diagnose, evaluate and treat this common neurological problem. NPH is very often misdiagnosed as Parkinson's disease or other conditions. NPH can be quickly and successfully treated once properly assessed by our team.
Chiari Malformation Center of Excellence: Our dedicated team leads the field in diagnosis, surgical treatment – when appropriate, and lifelong treatment of this disease. Recognized nationally, we receive referrals for our unique set of skills focused on the treatment and care of each individual patient.
Balance Clinic: A clinic focused on individually addressing patients with balance issues and providing customized solutions enabling them to lead safer, more productive lives.
Programs and Services
Neurosurgery OR Suite with Biplane Imaging Technology
Our neurosurgeons perform lifesaving minimally invasive endovascular procedures in a hybrid operating room located at Crozer-Chester Medical Center in Upland, Pa. A revolutionary alternative to conventional operating rooms, the hybrid OR enables our team to treat high-risk patients who need immediate surgical intervention. It is equipped with a biplane advanced imaging system that delivers detailed, high-quality 3D X-ray images during the surgical procedure.
Together, the hybrid OR and biplane technology are used to treat conditions such as stroke, aneurysm, arteriovenous malformation, and brain tumor. We are available 24/7 for emergency surgeries.
Emergency and Critical Care
Global Neurosciences Institute at Crozer offers the region's first, and only, Neurologic Emergency Department (Neuro ED), located at Crozer-Chester Medical Center. The Neuro ED model was conceived and first implemented in the U.S. by GNI. Our fellowship-trained emergency room physicians focus on assessing and treating neurological disease patients who present to the ED. Our approach to dramatically expedite treatment time for patients with life-threatening conditions provides the best care possible for patients and their families.
Our Neurologic Intensive Care Unit (Neuro ICU) at Crozer-Chester Medical Center provides dedicated care to patients with life-threatening neurological problems. It is a dedicated ICU model where all patients are managed exclusively by our team and clinical support.