Crozer Health Recognizes Miguel Gomez R.N. as DAISY® Award Recipient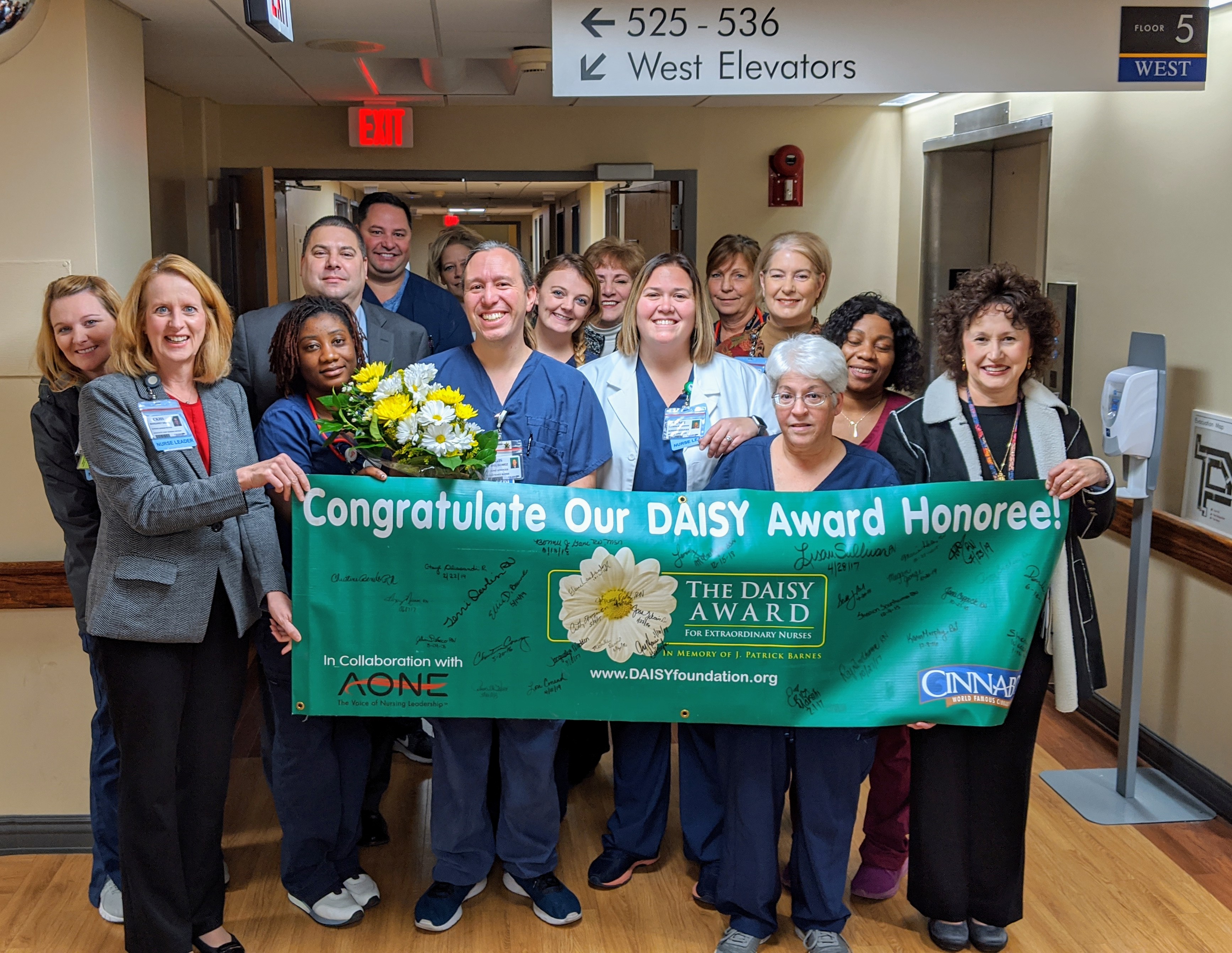 Crozer Health recently recognized Miguel Gomez R.N., from 5 Central at Delaware County Memorial Hospital, as a recipient of The DAISY® Award.
The DAISY® Award is a program that recognizes excellence in nursing and was created by The DAISY® Foundation to highlight the clinical skills, extraordinary passion, and care exemplified by nurses every day. Award recipients consistently demonstrate each of the following criteria: Dedicated, Autonomous, Innovative, Selfless, and Extraordinary.
Miguel was nominated for The DAISY® Award by a family member of a patient he cared for at Delaware County Memorial Hospital and the compassion and comfort he provided during their visit. "My family member was admitted to the 5th floor at 2 a.m. after an unexpected visit to the emergency department at Delaware County Memorial Hospital. Our nurse, Miguel, was extremely attentive and caring. He took the time to answer all of my questions and was extremely patient and understanding throughout the process," the family member said. "We are so grateful for Miguel's kindness and calm demeanor. He is extremely compassionate and truly cares about his patients – always going above and beyond to keep them comfortable. He made us feel at home!"
"Miguel has been with the system since 2017. He is known for his consistent, compassionate care as well as being a patient advocate. He is always pleasant and extremely positive, while always finding the time to connect with his patients," says Allison Monaghan BSN, R.N., Clinical Nursing Director of 5 Central at Delaware County Memorial Hospital. "Miguel is always available to go a step beyond expectations, which is why he is adored by his patients and respected by his peers. He can strongly empathize with patients and their families while maintaining his focus from moving from patient to patient."
The DAISY® Foundation and The DAISY® Award
The not-for-profit DAISY® Foundation was established by family members in memory of J. Patrick Barnes, who died in 1999 at the age of 33 from complications from an autoimmune disease. The care that Barnes and his family received from nurses throughout his illness inspired this unique means of thanking nurses for making a profound difference in the lives of their patients and patient families.
Each DAISY® Award honoree is recognized at a public ceremony on his or her unit and receives a certificate, a DAISY® Award pin, and a beautiful hand-carved stone sculpture. In addition, the unit celebrates their colleague's achievement with Cinnabon cinnamon rolls, which were a favorite of Patrick's during his illness.