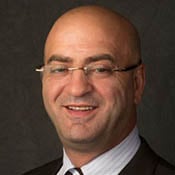 Wassim G. Habre,
M.D.
General Surgery, Surgical Critical Care, Trauma Surgery
Request an appointment
CHMG Physician
Accepting New Patients

Wassim G. Habre speaks Arabic, French, and Russian.
Locations
Habre has admitting privileges at Crozer-Chester Medical Center, Springfield Hospital, and Taylor Hospital.
HAN Trauma
1 Medical Center Blvd. Ambulatory Care Pavilion, Suite 233
Upland, PA 19013
610-447-7605
Crozer Regional Trauma Center
1 Medical Center Blvd.
Upland, PA 19013
610-447-6090