Distance Education Program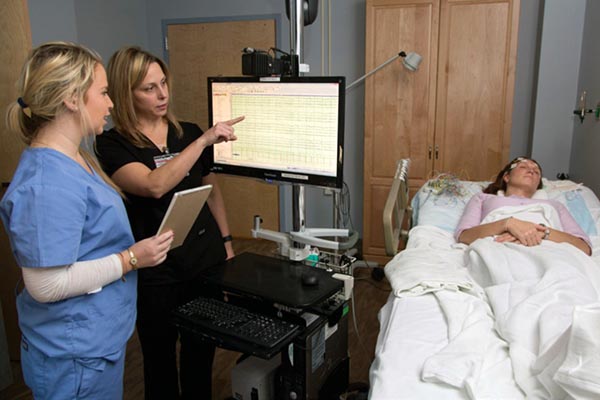 The online curriculum targets students who do not have access to traditional NDT training programs. The online courses are similar to those offered in our traditional seated program in that they require completion of weekly academic and clinical assignments. Academic instruction is done through Canvas. Students will have regular contact with Crozer's experienced NDT instructors and can also complete their general education requirements utilizing DCCC's Canvas learning management system.
Upon successful completion of the Neurodiagnostic Technology program curriculum courses, students will receive an Associate's degree in Health Science-Neurodiagnostic Technology from the college and a Certificate of Neurodiagnostic Technology.
Online NDT students are required to attend clinical rotations two days per week in an NDT lab under the direction of an ABRET registered EEG Technologist (R. EEG T). Those applying for acceptance will be required to provide documentation of a clinical rotation prior to registering for courses. Clinical instruction is key to the NDT learning process. Approval of clinical sites will be at the discretion of the School of Clinical Neurophysiology faculty on a case-by-case basis. ABRET Accredited laboratories are recommended but not required. To find an accredited lab near you visit ABRET.org or Contact ASET.org
Students who have obtained the R. EEG T. credential should contact Linda Kelly, Program Director, to discuss the availability of advanced placement options, including credit for the credential.
Contact Us
For more information please contact:
School of Clinical Neurophysiology
Crozer-Chester Medical Center
One Medical Center Blvd.
Upland, PA 19013
Vicki Sexton, B.S., R.EEG/EPT, R.NCS, T., CNCT, CLTM, FASET
Program Director
Phone: 610-447-2691
Email: Vicki.Sexton@crozer.org
Delaware County Community College
901 S. Media Line Road
Media, PA 19063
Phone: 610-359-5000