70 Pounds Lost Since Surgery… and Counting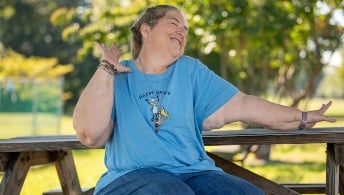 At 57, Susan Birkinbine had spent much of her life concerned about her weight and tried lots of different things to control it, none to any effect. Following the recommendation of a few of her coworkers, last February, Birkinbine met with Aley E. Tohamy, M.D., FACS, a bariatric surgeon with the Crozer Health.
At that point, Birkinbine's body mass index (BMI)—a body-size measure that combines your weight and height—was 47. A normal BMI for someone of her height is 25. Her weight had begun to interfere with her work as a bus driver in Delaware. She was tired all the time and her knees ached constantly.
Birkinbine also had high cholesterol and sleep apnea, both direct results of her obesity, according to Dr. Tohamy. And she was taking medication for high blood pressure.
During the next three months, Birkinbine met regularly with Dr. Tohamy and a Crozer Health registered dietician to learn how to lead a healthy lifestyle. On May 23, she underwent a procedure called a sleeve gastrectomy. "We made her stomach smaller, basically, so that she feels fuller faster," Dr. Tohamy said.
Birkinbine was discharged the following day. Thanks to significant advances in technology and technique, most bariatric surgeries now take less than three hours, Dr. Tohamy said, and the recovery is extremely fast. In some cases, patients are back to work within a week.
At her three-month follow-up in August, Birkinbine had already lost 70 pounds, and her BMI was down to 36. She is no longer taking her blood pressure medication. She's also sleeping more soundly and has more energy during the day. Her goal is to lose another 30 to 40 pounds, which would put her within the normal BMI range.