Bolstered by Her Family's Kindness and Support, Cathie Overcomes Breast Cancer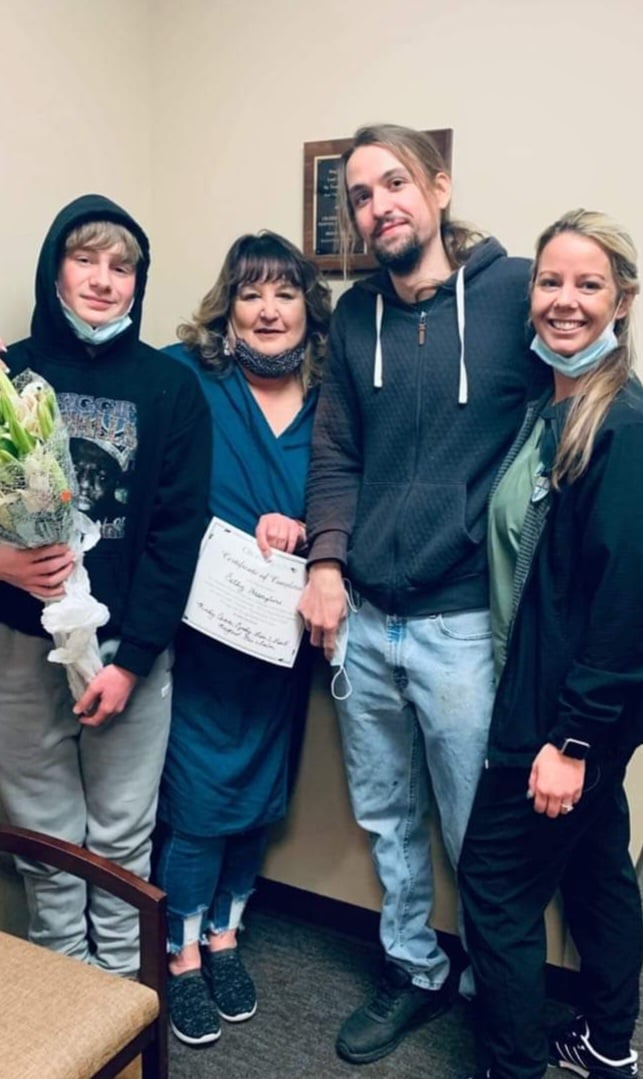 Energetic, humorous and highly dedicated to her family and friends, Cathie Fasciglione always took her health seriously. "I've been with Crozer Health for 20 years or more," she recalled.
At the end of 2021, Cathie got a call about her routine mammogram and was asked to come back for a biopsy (test to remove and examine the tissue for the presence of any condition). "I will never forget when they told me that it was cancer. I was alone and busted out into tears," explained Cathie emotionally.
"My children left their lives immediately and came to me. I remember my daughter saying that it'll be okay, it's going to be okay," she shared. "I was so surprised. There weren't any lumps or other signs of cancer before the mammogram."
While still processing this news, Cathie and her care team at Crozer Health quickly met to discuss her treatment options. "I met with Dr. Jandie Posner , and she was awesome," Cathie explained. "I felt so relaxed with her and she just made me feel very comfortable. We scheduled the surgery soon after."
"Now, looking back, she stands out as an extremely helpful and expert surgeon. I couldn't have asked for a better surgeon. She was knowledgeable and very compassionate — sincere. I felt that I was in good hands," added Cathie.
Another surprise during surgery
Years prior, Cathie had an adverse reaction after an outpatient procedure. This made her — understandably — worried about the upcoming surgery. She relied heavily on her children and sisters for support.
During the surgical treatment, Dr. Posner discovered two types of cancers. "It's rare that there are two different kinds of cancers in the same area," explained Cathie. Again, Cathie was shocked. "Dr. Posner was surprised. I'm grateful that she removed both at that time."
After the successful surgery, Cathie began radiation treatment. "My radiologist, Dr. Ricco, was great," she said. "He's from Delaware county, where I'm from also. Everyone who worked with me during the radiology treatment was great. My oncologist was Dr. Joseph Tropea ; he and his entire team were so great. They made me feel comfortable even though I was in a machine where I had to lay face down — my arms up in the air."
Cathie's son drove her to and from her 20 radiology appointments. "My son works nights and still made sure to take me to every one of my appointments to make sure I was okay," she said, exuding gratitude.
Everyone's cancer is different, but we all need support
After the 20 sessions, Cathie received very good news: she was free of cancer. "I got to ring the bell," beamed Cathie. "My son, daughter and grandson were all there when I did."
She continues to receive frequent follow-up care at Crozer Health, but is recovering well and is now back to her part-time work as a care provider. "I was tired. I'm still tired; it takes a lot out of you. But, in my opinion, you need a strong support system," she explained.
Cathie praised her children and sisters for their invaluable support during her treatment and recovery. "My family brought me food (all masked) so I didn't have to make my own food. They sent me flowers and called me to make sure I was okay. I don't know if I would have got through it as calmly if it wasn't for my siblings," she detailed.
"I relied so much on my children. My kids visited almost every day. Just knowing that I could pick up the phone and they would come running was the best feeling in the world," she continued. "I don't know how they got so strong. When I asked them, they told me that they got their strength from me."
During this time, Cathie's good friend underwent treatment for throat cancer. They supported each other throughout their unique treatments. "Being able to talk about what we were both going through was a huge help," she shared.
In addition to relying on her network of family, friends and her community, Cathie also relied on support from a Susan Komen Breast Cancer Foundation chapter, especially while she was not working. Now, as she continues to heal and gain strength, she hopes to help others, especially those who were there for her during this time.
"When I get 100 percent back on my feet," asserted Cathie, "I want to volunteer as someone that other patients can talk to. Everyone's cancer is different, but we all need support."
Cathie also fervently advocates for routine checkups and cancer screenings. "I recommend that we all get a mammogram, pap smear, etc. I can only imagine what it would be like if I hadn't gotten the mammogram."
Schedule your mammogram at Crozer Health today.