Crozer Health and Philadelphia Union Welcome Fans for Life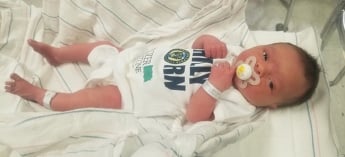 The Philadelphia Union soccer team earned more than just a 3-2 victory against the New York Red Bulls on June 8.
They also gained two special fans: Babies Sawyer and Colton, the first newborns designated a Union "Fan for Life" through a joint program between Crozer Health and the Philadelphia Union.
All babies born at Crozer-Chester Medical Center or Delaware County Memorial Hospital on Union game days will receive a "Philly Born" onesie, a certificate, and three non-expiring tickets to a future Union game.
"Being part of one of the most important days of a family's life is something that the Philadelphia Union organization takes great pride in," said Jean-Paul Dardenne, Senior Vice President, Corporate Partnerships for the Philadelphia Union. "We are honored to welcome these new fans, alongside Crozer-Keystone, to the Philadelphia Union family and to the Delaware County community."
The Fan for Life program launched in June 2019 and has received positive feedback from both Union fans and new parents. "The parents have been really excited to be a part of the program," said Mary Wascavage, Crozer Health's Director of Marketing. "It's been a great way to engage Union fans, our hospital family, the patient community, and even fans of rival teams."
The Fan for Life program is expected to continue for future seasons, adding hundreds of young Crozer-Keystone fans to the Philadelphia Union's loyal following.
Crozer Health is a Founding Partner and the official healthcare provider of the Philadelphia Union.