The Art and Science of Recognizing Cancer in Dense Breast Tissue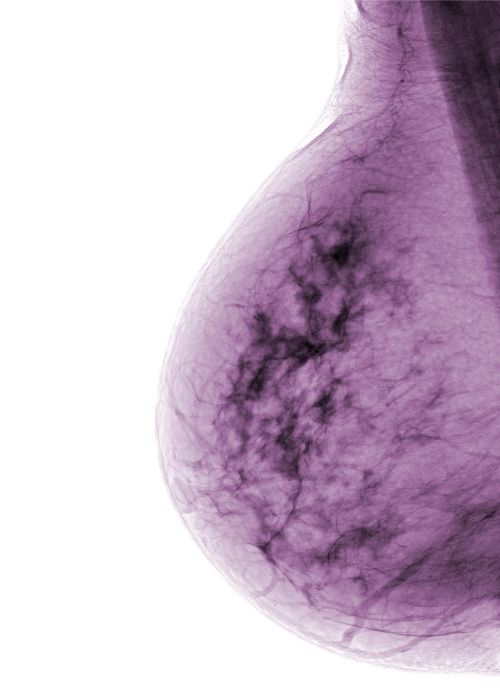 Nearly half of all women age 40-and-older have what are considered dense breasts, according to the National Breast Cancer Foundation (NBCF), which published a free Dense Breasts Guide to coincide with Breast Cancer Awareness Month.
Breasts are made up of two types of tissue: fatty and fibroglandular. Every woman's particular composition is unique, according to Amy Vogia, D.O., a Crozer Health radiologist who specializes in mammography. Fibroglandular tissue is considered dense breast tissue.
Dense breast tissue is not something you or your physician can feel. It can only be detected through a mammogram. Radiologists then differentiate breast density according to four categories (see Exhibits A-D, found in NBCF's "Dense Breasts Q&A Guide"):
Class A: Fatty. The tissue is almost entirely fatty.
Class B: Scattered fibroglandular density. There's some dense tissue, but it's mostly fatty.
Class C: Heterogeneously dense. The majority of the tissue is dense.
Class D: Extremely dense. Almost all of the tissue is dense.
About 40 percent of women 40-and-older are categorized as Class C and 10 percent as Class D, according to Dr. Vogia.
"Dense breast tissue could complicate a breast cancer diagnosis because both cancer and dense tissue appear as white on a mammogram," she explained. "Fatty tissue is black. Recent research also indicates that women categorized as Class D may be at higher risk for developing breast cancer. But having dense breast tissue is not an abnormal finding, so it shouldn't necessarily sound an alarm."
If a woman is categorized as Class C or D, she should consult with her primary care physician to determine if she needs any supplemental studies, such as an MRI or ultrasound. If she hasn't been already, she should also be screened with a 3D mammogram.
All mammogram screenings at Crozer Health facilities are performed with 3D equipment, which creates a series of layered images. Dr. Vogia explained that that level of detail has increased the detection of invasive breast cancer by 40 percent, citing a study published earlier this year in the journal, JAMA Oncology.