When to See a Doctor About Your Sunburn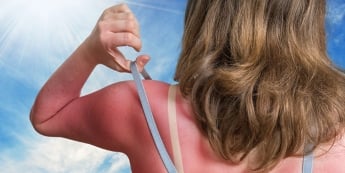 Irritating as it can be, much of the pain and tenderness of a sunburn can usually be relieved with over-the-counter treatments and simple first aid. In extreme cases, however, a visit to a specialist may be warranted.
If your sunburn becomes too painful to move or you start spiking a fever of over 101 degrees, it's time to see a doctor at the Crozer Burn Center at Crozer-Chester Medical Center, Upland, Pa. Be on the lookout for blisters as well, particularly the cloudy kind, which may signal an infection. They'll require medical treatment.
A child with a sunburn is even more susceptible to severe symptoms, so be vigilant in monitoring them.
"Seek immediate care if they start complaining of eye pain or they can't look at lights," said Linwood R. Haith Jr., M.D., medical director of the Crozer Burn Center. "If they start feeling dizzy, dehydrated, or just generally sick, those are all red flags, too."
For a mild sunburn, follow these steps for some relief from your symptoms:
Drink lots of fluids and avoid alcoholic and caffeinated drinks. During the first 24 hours with a sunburn, dehydration is a real threat.
Take an over-the-counter pain medication, like acetaminophen.
Apply cool compresses for 10 to 15 minutes several times a day, or take cool baths.
After you take a bath (or shower), don't dry off completely. While your skin's still damp, massage a fragrance- and alcohol-free moisturizer all over. Despite what your mother may have told you, stay away from petroleum jelly, any ointments, and, yes, butter. They'll slow the healing process and may even make your symptoms worse.
Also, avoid creams and sprays that contain benzocaine. It can cause an allergic reaction.
Crozer Health has the only American Burn Association-verified burn center for adults in the Philadelphia five-county region, Delaware, and central and southern New Jersey.