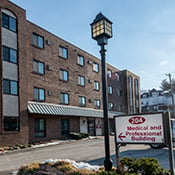 Crozer Health Gastroenterology Associates - Ridley Park
204 E. Chester Pike
Suite 4
Ridley Park, PA 19078
Request an appointment
Contact Info
Main Line: 610-619-7475
Fax Line: 610-521-0951
Direct-access Colonoscopy Appointments
It is very important to schedule a routine colonoscopy per your healthcare provider to allow for early detection of cancer when it is in a highly curable stage as well as early detection of growths (known as polyps) that could become cancerous.
To make this process as easy as possible for our patients, Crozer Health Gastroenterology Associates offers direct access scheduling for colonoscopy screenings. This means that a separate consultation visit at the physician's office is not required.
Crozer Health Gastroenterology Associates has specific instructions to help you to prepare and cleanse for your colonoscopy. Please see the links below for more information.