Crozer Burn Center Medical Director Assumes Presidency of American Burn Association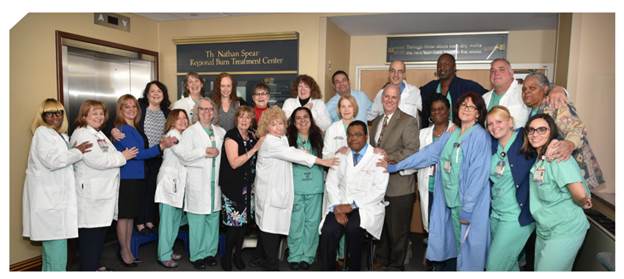 Crozer Health 's renowned Nathan Speare Regional Burn Treatment Center at Crozer-Chester Medical Center recently added two more national recognitions to its long history of achievement. First, the burn center's co-medical director, Linwood Haith Jr., M.D., FACS, FCCM, has assumed the presidency of the American Burn Association (ABA) for a one-year term. Secondly, the Crozer Burn Center is the 2017 ABA national "Burn Center of the Year."
"It is an incredible honor to assume this leadership role with the American Burn Association, and for our burn center to receive such prestigious national recognition," says Haith. "It is truly a tribute to our outstanding, dedicated team and the work they do every day to care for our patients."
As president of the ABA, Haith's duties now include representing the organization domestically and internationally; advocating burn-related issues in Washington, D.C.; and promoting and supporting patient care, education, rehabilitation, prevention and burn-related research. He also supervises the functions of the ABA's Board of Trustees. He is also a member of the ABA Verification Committee, which supervises the certification of burn centers in the U.S., Canada, Australia and Sweden.
Haith is the second Crozer Burn Center physician to be named the president of the ABA. Charles Hartford, M.D., FACS, was ABA president in 1981.
The "Burn Center of the Year" is chosen by the ABA's Archives Committee. The title is often awarded in conjunction with the ABA presidency.
Haith graduated with a bachelor of science from Yale University and earned his medical degree from Harvard Medical School. He completed his surgical residency at Yale New Haven Hospital and Thomas Jefferson University Hospital. He is board-certified in general surgery and surgical critical care. He was recently promoted to the academic rank of clinical professor in the department of surgery at Drexel University College of Medicine. He has authored a textbook chapter, 55 peer review articles and 66 abstracts, and has lectured regionally, nationally and internationally.
Recognized as a national leader in burn care, the Crozer Burn Center has been verified by the ABA and the American College of Surgeons. Founded in 1973, the Crozer Burn Center is the only burn facility in suburban Philadelphia providing comprehensive treatment for pediatric and adult burn patients and their families — from emergency and intensive care to rehabilitation, follow-up and outpatient services. The facility cares for more than 300 patients in each year from Pennsylvania as well as Delaware, New Jersey and northern Maryland. In addition to burns, the team also treats non-burn injuries, such as "road rash" and other skin conditions similar to those experienced by burn patients.
The Crozer Burn Center has a long history of research and clinical advances. The center was one of the first to use culture cell transplantation, or cloning, of a patient's skin. The team also helped design a shower trolley used in the daily care and gentle cleansing of burn wounds.
The American Burn Association and its members dedicate their efforts and resources to promoting and supporting burn-related research, education, care, rehabilitation and prevention. The ABA has more than 3,500 members in the United States, Canada, Europe, Asia and Latin America. Members include physicians, nurses, occupational and physical therapists, researchers, social workers, firefighters and hospitals with burn centers. Our multidisciplinary membership enhances our ability to work toward common goals with other organizations on educational programs.
For more information about the Nathan Speare Regional Burn Treatment Center at Crozer-Chester Medical Center, visit crozerkeystone.org/Burn.
Healthy Living in Your Inbox