Crozer Health Welcomes New Plastic Surgeon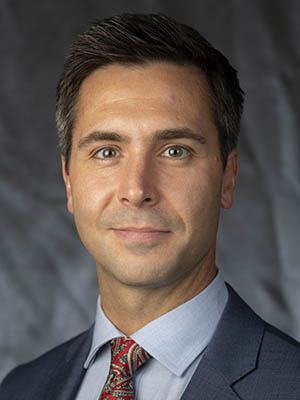 Adam C. Walchak, M.D., M.S., joined the Crozer Health staff, specializing in hand and wrist care, reconstructive and cosmetic plastic surgery.
Walchak recently served as an orthopaedic hand and microsurgery fellow at Integris Baptist Medical Center in Oklahoma City, Okla. Before that, he completed a plastic and reconstructive surgery fellowship at Montefiore Medical Center in New York, and prior to that was fully trained as a general surgeon at Temple University Hospital in Philadelphia.
He earned his medical degree from Drexel University College of Medicine in Philadelphia.
Walchak earned several honors during his training and career. In 2017, he received the Adrian E. Flatt Fellows Scholarship, awarded to young surgeons interested in pursuing higher education in the field of hand surgery.
He also received the Leo M. Davidoff Society Award recognizing outstanding chief resident achievement in teaching medical students, from the Albert Einstein College of Medicine, Division of Plastic Surgery.
In 2014, he received the H. Taylor Caswell, M.D. Award for outstanding chief resident achievement in surgical education of residents from Temple University Hospital, Department of Surgery.
At Crozer Health, Walchak focuses on a multitude of hand and wrist conditions including traumatic injuries and microsurgical reconstruction, joint replacement, wrist arthroscopy, open and endoscopic carpal tunnel release, nerve surgery and more. General plastic surgical reconstruction is also a keen interest of his, and patients will be well served during consultation.
Additionally he has much experience in cosmetic face, breast and body procedures including blepharoplasty, facelift, liposuction, abdominoplasty, breast augmentation and post-bariatric body contouring, and numerous non-surgical options to improve one's appearance.
"I'm excited for this opportunity to work with an outstanding group of colleagues at Crozer Health," said Walchak. "Together, our goal is to help patients restore their body's function and physical appearance as well as their self-esteem. Crozer Health offers the advanced technology to make this happen."
Walchak is a candidate member of the American Society of Plastic Surgeons and American Society of Surgery for the Hand.
He sees patients at the Associates in Plastic Surgery offices in Media, Pa., and Upland, Pa. For an appointment, call 610-566-6744.
Healthy Living in Your Inbox