Scott Bird, R.N. Recognized as DAISY Award Recipient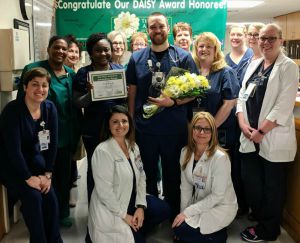 Crozer Healthrecently recognized Scott Bird, R.N., a Telemetry nurse at Taylor Hospital, as a recipient of the DAISY Award.
The award recognizes nurses who consistently meet each of the following criteria:
Dedicated
Autonomous
Innovative
Selfless
Extraordinary
Bird, from Holmes, Pa., was nominated for the award by one of his patients.
"No matter how busy the floor, Scott looked after me to ensure I was comfortable and my needs were met," the patient said in their nomination.
"At every encounter, Scott was professional, knowledgeable, focused on the task at hand and engaging.He took the time to listen, calm my fears about my condition and thoroughly explain what I was experiencing. Above all else, Scott always had a smile and welcoming demeanor, not just toward me, but to those I witnessed him interact with," the patient continued.
Scott has been a nurse at Taylor Hospital since 2015.
"He has extraordinary clinical skills and gives compassionate care to his patients every day. He is an excellent role model and ensures that his patients have the best experience possible while they are in his care. Scott is also dedicated, functions as a team player at all times, is a patient advocate and always professional in his role as a nurse at Taylor," says Christine Maiorano, RN, MSN, Clinical Nurse Director at Taylor Hospital.
Healthy Living in Your Inbox