When CPAP Doesn't Work - New Therapy for Sleep Apnea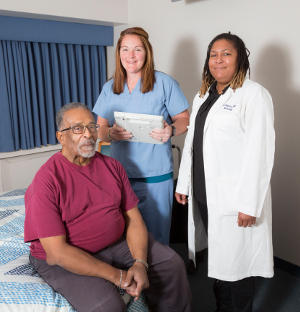 Arthur Layton Sr. figures he's had sleep apnea for nearly two decades. The 68-year-old Chester resident suffers from congestive heart failure and high blood pressure. An implanted pacemaker and defibrillator ensure that his weakened heart pumps as effectively as it can.
But one specific symptom troubled him: Layton would routinely wake up gasping for air. Sensing that something else was going on, he went to his doctor. He asked a lot of questions. His doctor suspected a sleep problem and sent him for a study.
"I had a hypopnea index of over 100," Layton says, "which means I stopped breathing over 100 times an hour." The diagnosis was confirmed – obstructive sleep apnea.
Layton did everything his doctors instructed
He took medication as a first-line treatment, and when that didn't work his medical team added CPAP (continuous positive airway pressure). CPAP is a highly effective therapy for sleep apnea; however, some people cannot tolerate it.
Before going to bed, patients place a mask over their mouth and nose. The machine delivers positive pressure that helps keep their airway open during sleep.
Layton tried a couple different types of CPAP machines for more than a year before he could no longer tolerate it. "The air would get into my belly to the point where it felt like it was full," he says. "The pain was so bad that I'd wake up with tears in my eyes."
His Crozer Health pulmonologist, Wei Bin, M.D., suggested a new therapy: the recently FDA-approved Inspire implantable device.
Inspire goes to work as soon as the person falls asleep. The device mildly stimulates the nerve that controls the tongue, gently pushing it forward to keep the airway open during sleep. No masks or tubes are needed, and the device emits virtually no detectable sounds.
Patients must meet certain criteria to qualify for Inspire: they must have failed CPAP therapy, and be screened for their body mass index (BMI) and hypopnea index. With a referral in hand to Philadelphia-based otolaryngologist Maurits Boon, M.D., Layton hoped his last resort would provide the relief he so desperately sought for so long.
Deemed an appropriate candidate for Inspire, in June 2017 Boon implanted the device in Layton's chest during a short outpatient procedure. His next stop was the Crozer Health Sleep Center at Taylor Hospital, where a specially trained technician calibrated Layton's device during a routine sleep study.
The end result was life-changing
"Everything is going well," Layton says. "I use a remote to turn the device on, go to bed, and a half-hour later it kicks in. I'm asleep before that happens."
He adds that as the device does its job throughout the night, he stays sound asleep. As a result, he feels better, has no problems waking up, and most importantly, "I have no more tears in my eyes or pain in my stomach," Layton says.
Today, the grandfather of three enjoys the simple pleasures of life again – sports, listening to music and spending time with his family.
"I even look better than I did when I used the CPAP machine," Layton jokes. "But seriously, this is the best thing that has ever happened to me."
With locations in Drexel Hill, Glen Mills and Ridley Park, Crozer Health's sleep centers offer a full complement of therapies to treat all types of sleep disorders – including studies to calibrate and determine the effectiveness of an implanted Inspire device.
To find out more or for a referral to a sleep specialist, call 1-888-SLEEP-03 (1-888-753-3703) or visit crozerkeystone.org/Sleep.
Healthy Living in Your Inbox