Crozer Health Recognizes Eleven Employees of the Quarter
Crozer Health recently acknowledged eleven employees with Employee of the Quarter awards for the 3rd Quarter of 2018. Recipients received a framed certificate and a $100 check.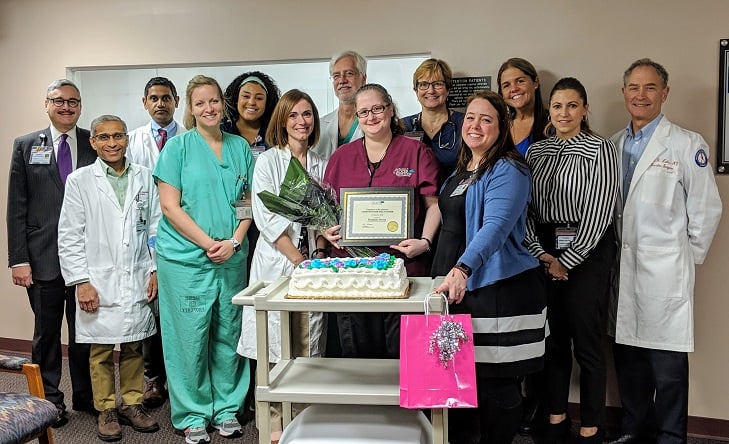 Danielle Street of Ridley Park coordinates surgical scheduling for Crozer Health Medical Group. Danielle (center) is congratulated by the Crozer Health Medical Group and Cardiovascular teams at Crozer-Chester Medical Center.
"Danielle goes above and beyond to assist all patients, regardless of whether they are scheduling surgery or not. No matter how stressful the situation may be, Danielle always remains calm -- her kindness is infinite. Danielle is also very supportive of her co-workers and other departments, pitching in whenever and wherever needed," said a colleague.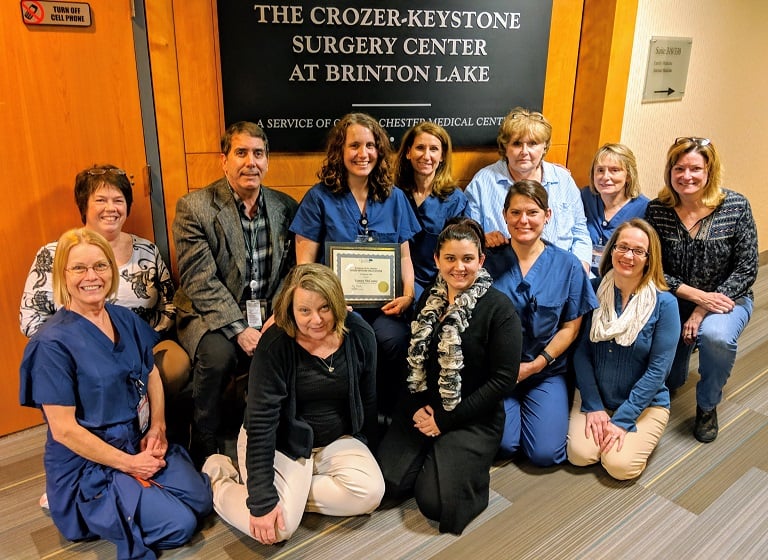 Tammy McCauley of Media is a registered nurse in the Postoperative Care Unit at Crozer Brinton Lake in Glen Mills. Tammy (center) is congratulated by the Postoperative Care team at Crozer Brinton Lake.
A supervisor commented, "We have received numerous letters from patients singing Tammy's praises. She is always cheerful, smiling and extremely helpful. To quote a recent patient: Tammy glows with such a sparkle of warmth, humor, and kindness; wrapping me in a blanket of care."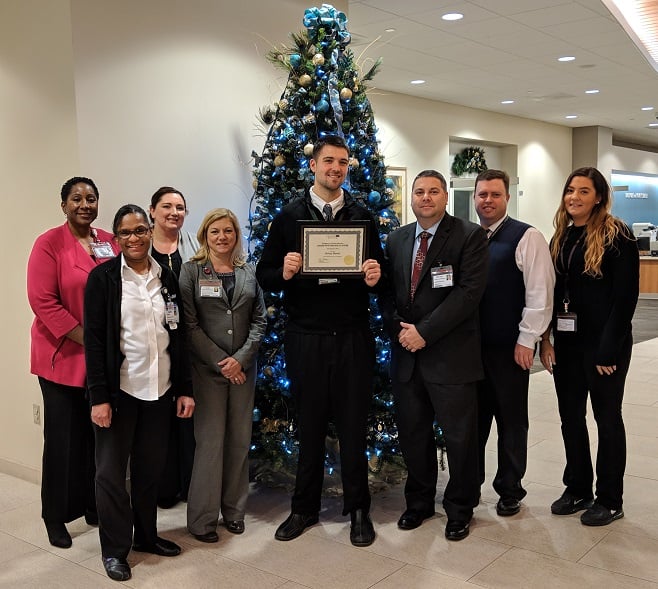 Brian Dowd of Clifton Heights works in Concierge Services at Crozer Health Broomall. Brian (center) is congratulated by Patrick Kerwood, president of Delaware County Memorial Hospital, Kris Creighton, Assistant Vice President of Ambulatory Services, and the team at Crozer Health at Broomall.
A colleague said, "Brian is accommodating and friendly to patients and visitors visiting our Broomall location. Brian is the ultimate team player; always going above and beyond for his co-workers and patients."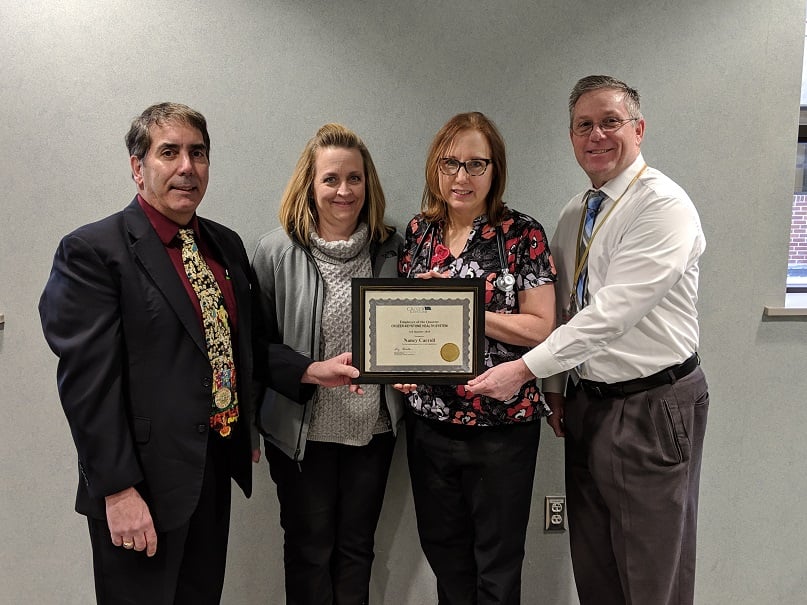 Nancy Carroll of Royersford is a respiratory therapist at Springfield Hospital. Nancy (center) is congratulated by co-workers at Springfield Hospital.
"Nancy has always been a dedicated employee. She is committed to high patient care. With patience and diligence, Nancy takes on all tasks she encounters on a daily basis. She has a calm, warm personality and is an asset to this institution," said a colleague.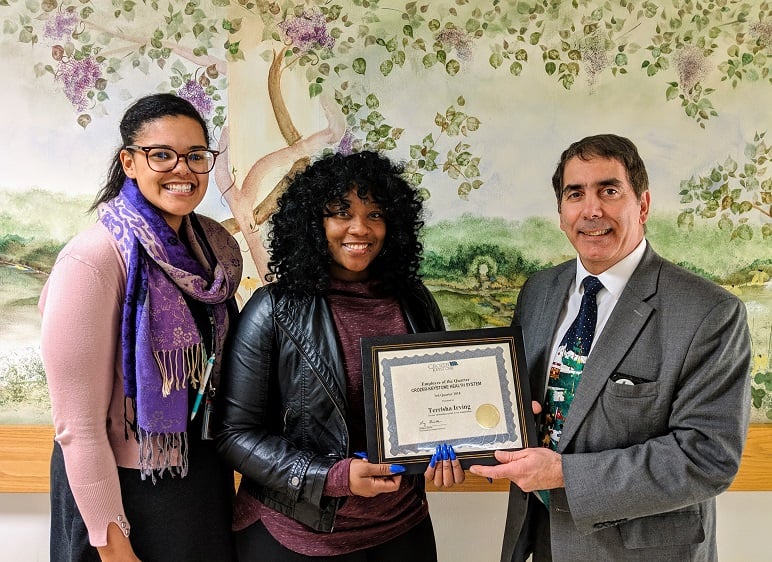 Terrisha Irving of Chester is a Drug and Alcohol Intensive Case Manager at Community Hospital in Chester. Terrisha (center) is congratulated by her supervisor, Julianna Pierre, Intensive Care Manager, at Community Hospital.
A co-worker said, "Terrisha has shown genuine dedication, cooperation, and takes a positive approach with every task and challenge she encounters. She is the first person to volunteer and support co-workers and clients alike."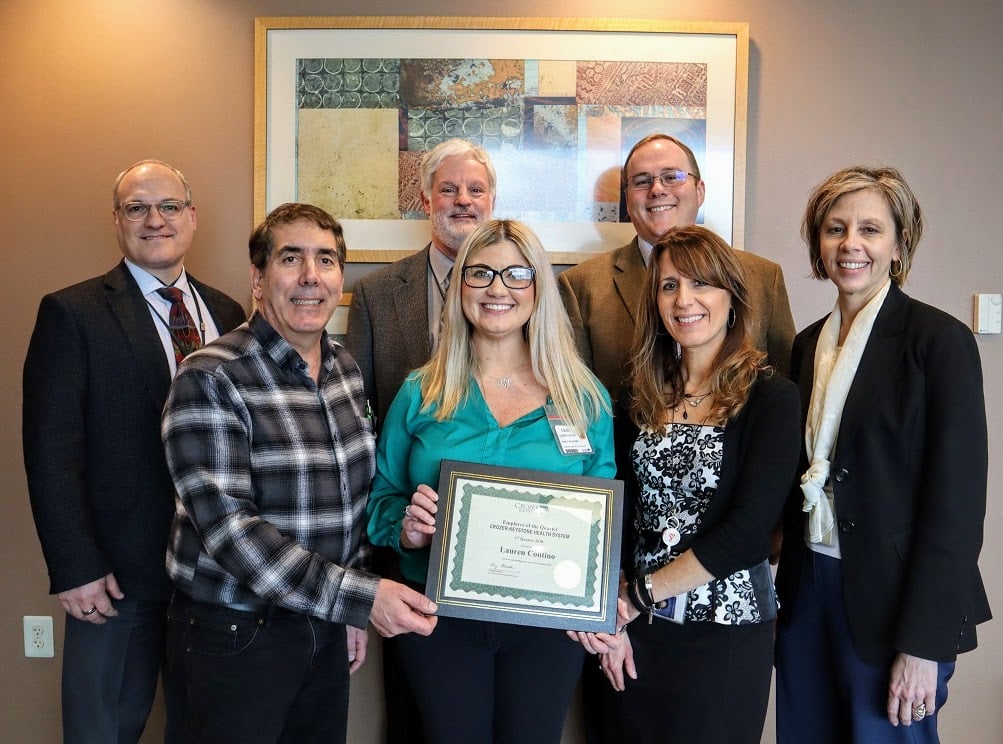 Lauren Contino of Ridley Township works in the Marketing and Corporate Communications Department for Crozer Health . Lauren (center) is congratulated by Liz Jaekle, Vice President of Marketing and Business Development, Andrew Bastin, Assistant Vice President of Marketing and Corporate Communications, and members of the Marketing team.
"Lauren was a force behind the success of our recent Physician and Employee Town Hall meetings. From developing a schedule for 80 meetings in a two-week period, down to the smallest logistical detail, Lauren took ownership of the preparation process and pushed others to complete tasks on time. Lauren achieved all this with a "can do" attitude. She was ready with a solution to any problem or delay that arose. Lauren's work ethic is an excellent example to all," commented a corporate executive.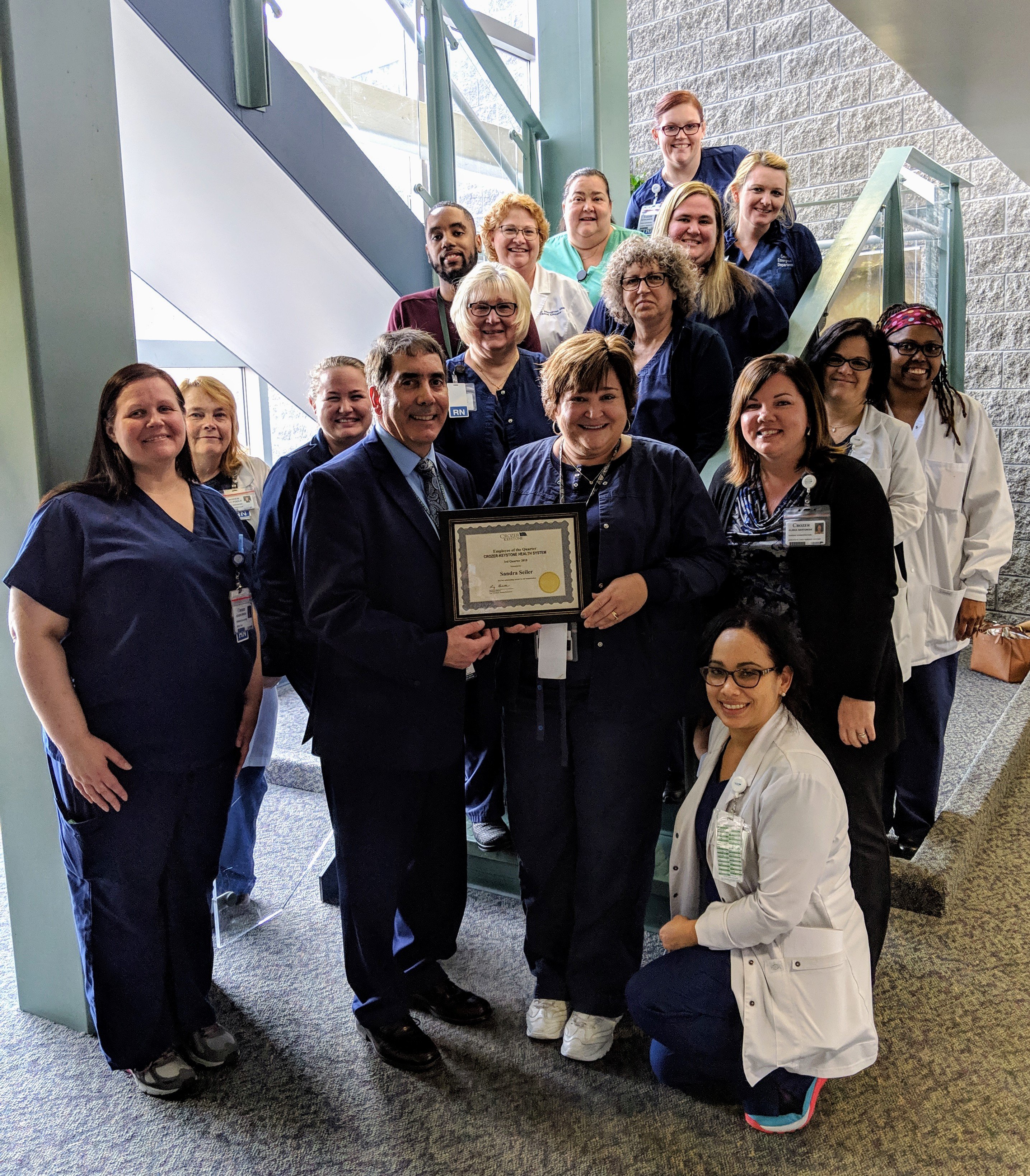 Sandi Seiler of Garnet Valley is the Clinical Nurse Educator for Critical Care at Crozer-Chester Medical Center in Upland. Sandi (center) is congratulated by Alisha Hartunian, Chief Nursing Officer of Crozer-Chester Medical Center, and members of the critical care and nursing education teams at Crozer-Chester Medical Center.
A co-worker said, "Sandi continually displays a commitment to quality when carrying out her responsibilities and frequently goes above and beyond to exceed the expectations of her daily job performance. She demonstrates a positive and professional attitude towards her work, her co-workers, management and most importantly, the staff members who have come to rely on Sandi's experience and knowledge. She is an exceptionally passionate educator who educates with a smile on her face. Sandi personally reaches out to new hires before their first day of work and provides her contact information as well as a preliminary outline of the expectations of new employees. This gesture is a welcoming touch to a new employee of CCMC. Additionally, recognizing that change may be both exciting and scary, Sandi also reaches out to existing employees who may be transferring into the critical care areas and offers the same guidance. "There is never a wrong time to do the right thing" is not only something Sandi says, but it is a concept that she holds close as she continuously tries to live up to that standard. Sandi's commitment to excellence never waivers when it comes to staff education. Her dedication can be seen on every shift and not limited to traditional workdays. Sandi will often come in on the weekends or early in the morning so she can be in contact with all staff assigned to her units. Sandi is also the consummate team player! She sits on multiple system-wide committees and is actively involved in taking the ideas discussed in committee and making them a reality."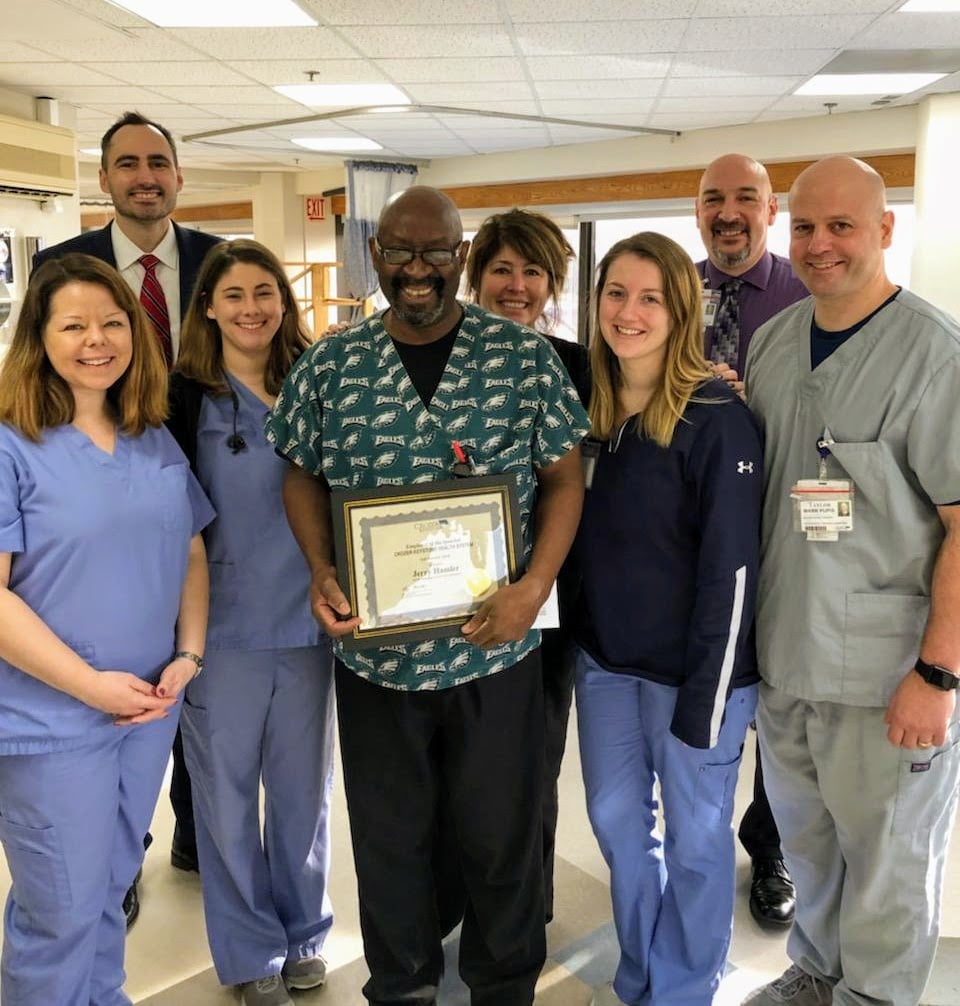 Jerry Hamler of Chester works in Physical Medicine and Rehabilitation (PM&R) at Taylor Hospital in Ridley Park. Jerry (center) is congratulated by Joe Rafferty, president of Taylor Hospital, and Physical Medicine and Rehabilitation co-workers at Taylor Hospital.
"Jerry recognizes routine, immediate, ongoing concerns and handles them for each patient compassionately and efficiently. He recently repaired the wheelchair of an amputee patient at one of our facilities. This patient did not have local friends or family members to assist him with repairs. Without a second guess, Jerry accepted the challenge and repaired the patient's chair. He is an exemplary Crozer Health employee who is more than deserving of this recognition," said a colleague.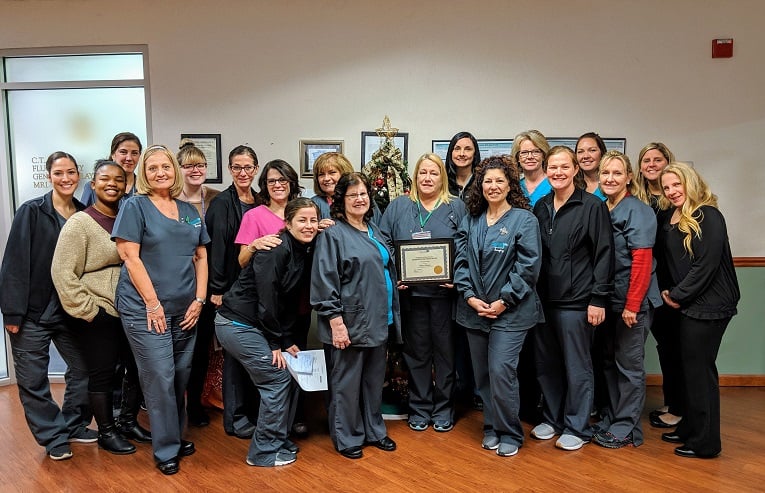 Mary Ryan of Ridley Township is a receptionist at Media Medical Imaging. Mary (center) is congratulated by her co-workers at Media Medical Imaging.
"Mary has been a loyal employee for over 25 years. She always has a smiling face, even when faced with difficult situations and busy times. Mary goes above and beyond for our patients and employees. She also manages the clerical schedules when unexpected changes arise. Mary is an integral part of our department, and we are grateful for her contributions," commented a co-worker.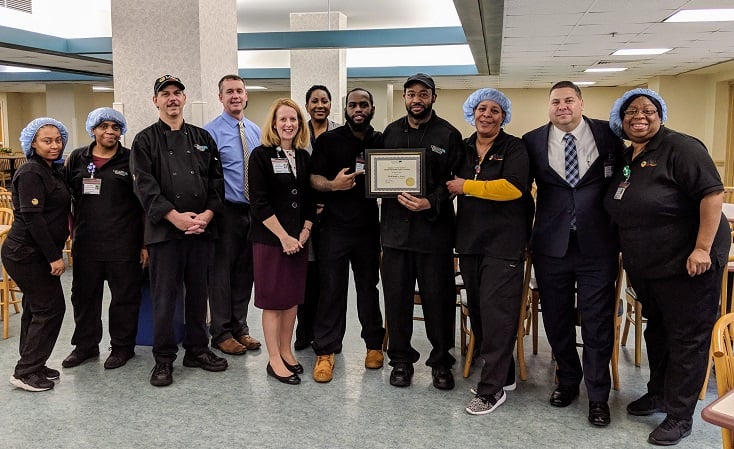 McKingley "Mac" Avery of Upper Darby works in Nutrition Services at Delaware County Memorial Hospital in Drexel Hill. Mac (center) is congratulated by Patrick Kerwood, president of Delaware County Memorial Hospital, Margaret Drake, Chief Nursing Officer at Delaware County Memorial Hospital, and his co-workers.
A co-worker commented, "Mac is a team player. He works extremely hard and never complains during difficult times. To date, Mac has a perfect attendance record. He often goes above and beyond to fill shifts based on the needs of the department. Mac has a great attitude and is an asset to Crozer Health ."
About the Employee of the Quarter
Non-management Crozer Health employees from all hospital sites, outpatient services sites, and Crozer Health Medical Group Offices are eligible for the Employee of the Quarter Award. The award recognizes those employees who day in and day out serve as a wonderful example for their co-workers in one or more of the following ways:

• Providing High-Quality Patient Care
• Consistently Delivering Outstanding Performance
• Attaining Outstanding Achievement
• Exemplifying the Standards of Performance
• Being a Loyal Employee