Crozer Health Recognizes Tammy McCauley R.N. as DAISY® Award Recipient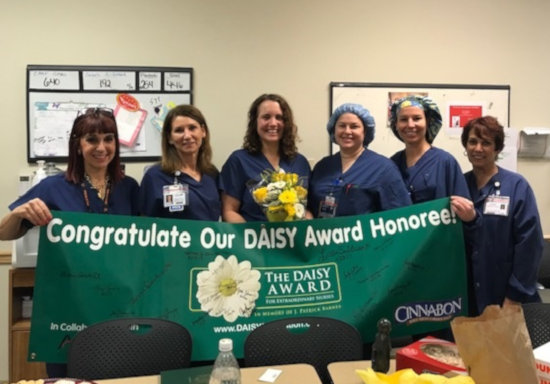 Tammy McCauley R.N., a postoperative nurse in the Crozer Health Surgery Center at Brinton Lake, was recently recognized by Crozer Health as the latest The DAISY® Award.
The DAISY® Award is a program that recognizes excellence in nursing and was created by The DAISY® Foundation to highlight the clinical skills, extraordinary passion and care exemplified by nurses every day. Award recipients consistently demonstrate each of the following criteria: Dedicated, Autonomous, Innovative, Selfless and Extraordinary.
McCauley was nominated for The DAISY® Award by a patient at Crozer Health Surgery Center at Brinton Lake for the compassion and comfort she provided during their visit.
"I wanted to let you know what a wonderful experience I had during my outpatient laser treatment at Crozer Health Surgery Center at Brinton Lake. During my visit, I was fortunate enough to have a lovely warm spirited nurse named Tammy by my side prepping and nurturing me during my visit. Tammy glowed with a sparkle of warmth, humor and kindness," the patient said. "Tammy checked in on me often with uplifting words and a smile. How can such a gloomy day turn out to be so wonderful? As I waited for my turn in the laser room, I watched and listened to many nurses scurrying around, bringing their best knowledge and comfort to patients with their pre and post procedural instructions. It was more than comforting to experience the nurturing and professional atmosphere."
Tammy began her career as a travel nurse, and later transitioned to a cardiac stepdown/CICU unit at the Hospital of the University of Pennsylvania. Tammy joined Crozer Health in 2007 on the Telemetry/Stroke unit (2 North) at Crozer-Chester Medical Center. In 2012, she transferred to the Crozer Health Surgery Center at Brinton Lake, as a postoperative anesthesia nurse.
"Not only were we lucky enough to gain a top notch CICUPACU nurse, but additionally a nurse for our pain management patients undergoing procedures in the operating room," says Madelyn Evans R.N., B.S.N., C.A.S.C., Executive Director, Crozer Health Surgery Center at Brinton Lake. "It is more than evident Tammy loves working as a nurse. She has extraordinary talent and goes the extra mile to make sure her patients are well taken care of. Tammy has excellent clinical skills with a personality to match. We at Brinton Lake are very lucky to work with her."
The DAISY® Foundation and The DAISY® Award
The not-for-profit DAISY® Foundation was established by family members in memory of J. Patrick Barnes, who died in 1999 at the age of 33 from complications from an autoimmune disease. The care that Barnes and his family received from nurses throughout his illness inspired this unique means of thanking nurses for making a profound difference in the lives of their patients and patient families.
Each DAISY® Award honoree is recognized at a public ceremony on his or her unit and receives a certificate, a DAISY® Award pin and a beautifully hand-carved stone sculpture. In addition, the unit celebrates their colleague's achievement with Cinnabon cinnamon rolls, which were a favorite of Patrick's during his illness.