Crozer Health Recognizes Cheryl Alessandrini R.N. as DAISY® Award Recipient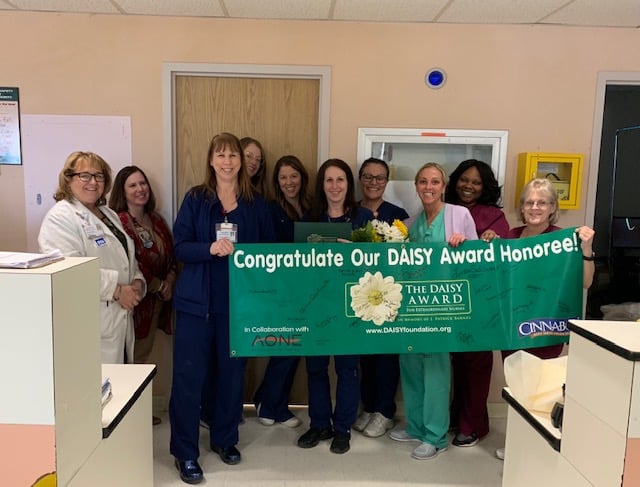 Cheryl Alessandrini R.N., from the Surgical Trauma Unit (STU) at Crozer-Chester Medical Center was recently recognized by Crozer Healthas a recipient of The DAISY® Award.
The DAISY® Award is a program that recognizes excellence in nursing and was created by The DAISY® Foundation to highlight the clinical skills, extraordinary passion, and care exemplified by nurses every day. Award recipients consistently demonstrate each of the following criteria: Dedicated, Autonomous, Innovative, Selfless and Extraordinary.
Cheryl was nominated for The DAISY® Award by a surgical resident at Crozer-Chester Medical Center. "I've had the pleasure of working with Cheryl since I was a fourth-year medical student – and these last two years as a resident. Cheryl's performance is second to none. She is caring, engaged, intelligent, kind, and always very helpful," the resident said. "Cheryl is undoubtedly dedicated to providing the best patient care possible. When Cheryl is with a patient, she knows every little detail down to the date and time of when lines/Foleys were inserted. Cheryl is respectful, an excellent communicator, and always willing to help others."
"Cheryl is a remarkable nurse and a true patient advocate. She goes the extra step for each patient she cares for and brings positive energy to our unit whenever she is working," says Cynthia Reigart, MSN, R.N., Clinical Director at Crozer-Chester Medical Center. "Cheryl's dedication to her profession is her nature. She is without a doubt a nurse I would want caring for myself and my family."
The DAISY® Foundation and The DAISY® Award
The not-for-profit DAISY® Foundation was established by family members in memory of J. Patrick Barnes, who died in 1999 at the age of 33 from complications from an autoimmune disease. The care that Barnes and his family received from nurses throughout his illness inspired this unique means of thanking nurses for making a profound difference in the lives of their patients and patient families.
Each DAISY® Award honoree is recognized at a public ceremony on his or her unit and receives a certificate, a DAISY® Award pin, and a beautifully hand-carved stone sculpture. In addition, the unit celebrates their colleague's achievement with Cinnabon cinnamon rolls, which were a favorite of Patrick's during his illness.