Now in Delaware County: Procedure Dramatically Reduces Strokes Related to A-Fib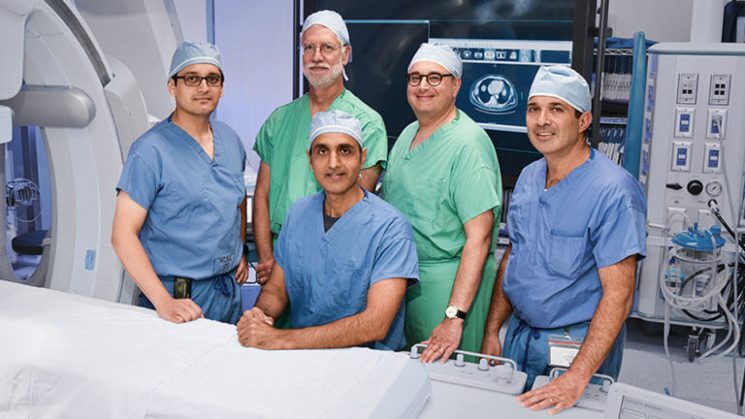 In the coming weeks, Crozer Health will begin performing WATCHMAN device implantation. It's intended for patients with non-valvular atrial fibrillation, or A-fib, which is an irregular heart rhythm that increases your risk of a stroke. Crozer Health is the first to offer WATCHMAN in Delaware County.
You may benefit from the procedure if you are a candidate for, but cannot take, blood thinners for the long term for various reasons, including previous bleeding, a future risk of bleeding, a higher risk of falls because of imbalance, or you have a lifestyle that puts you at a higher risk of bleeding.
"People with atrial fibrillation are prone to blood clots that form in the heart and travel to the brain, causing a stroke," said Sandeep K. Sharma, M.D., Director of Interventional Electrophysiology at Crozer Health. "In 95 percent of these strokes, the clots originate in a small pouch of the top left chamber of the heart called the left atrial appendage."
WATCHMAN is an FDA-approved implant that closes off the left atrial appendage from the rest of the heart.
In clinical trials, WATCHMAN was as effective as warfarin in preventing stroke and systemic embolism and more effective than warfarin in preventing death.
"It takes a few months for a covering to form naturally over the device. While that's happening, patients need to take blood thinners for the first 45 days after the procedure and then aspirin and Clopidogrel for six months," Dr. Sharma said. "But after that, they'll only need to take an aspirin."
WATCHMAN is implanted through a minimally-invasive procedure via a small incision in the groin. Generally, it takes less than an hour. Patients are typically free to return home after an overnight hospital stay.
"At Crozer Health, we have both an experienced team of doctors and the facilities to perform complex procedures like WATCHMAN," Dr. Sharma said. "Patients appreciate that they can stay close to home and get the best care locally."