New Laser Therapy for Scars and Skin Resurfacing Offered at Crozer Health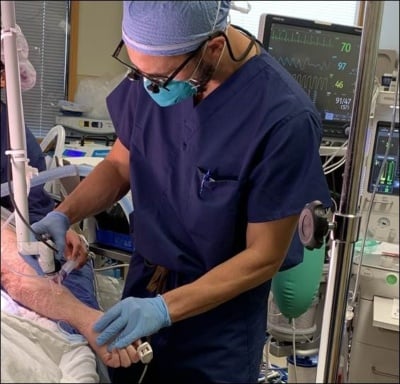 Dr. Walchak, a plastic and reconstructive surgeon on our medical staff, is pictured here using the new CO2 laser on a burn patient's arm.
Crozer Health has launched a new service for patients in need of scar treatment. This is the first UltraPulse® Laser with SCAARFX™ technology in Delaware County. This technology is safer and can penetrate deeper than aesthetic CO2 laser therapy.
The therapy improves appearance of burn and traumatic scars, and reduces discoloration, improves collagen, increases range of motion and improves confidence. The new CO2 laser for scar therapy will give burn patients a long-term solution to their cosmetic and mobility recovery needs. Additionally, skin resurfacing offers dramatic tightening and rejuvenation without traditional cosmetic surgery. It offers noticeable improvement in a range of skin aging concerns, such as deep wrinkles, fine lines, acne scars, uneven skin tone and texture – all with less downtime compared to other modalities of treatment.
The service was kicked-off last week with a CME opportunity for our medical staff, focusing on the effects of laser therapy for hypertrophic burn scars, hosted by Drs. Adam Walchak and Scott Hultman. Dr. Hultman was a visiting surgeon from Johns Hopkins University Hospital.
Learn more about CO2 laser treatment.
CO2 Laser Treatments - Call Today!
The most advanced treatment in scar revision, now available at Surgery Center at Brinton Lake, call today: 484-846-5100.