Crozer Health Trauma Surgeon Recipient of EAST Junior Investigator Scholarship Award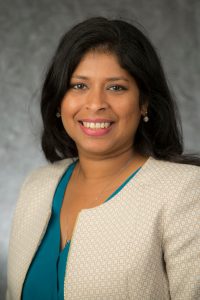 Asanthi Ratnasekera, D.O., FACS, trauma surgeon at Crozer Health's Crozer-Chester Medical Center, was recently awarded the Eastern Association for the Surgery of Trauma (EAST) Junior Investigator Scholarship Award for her study, "Outcomes of Early Initiation of Venous Thromboembolism Prophylaxis in Isolated Traumatic Brain Injuries."
The EAST Multicenter Trial Junior Investigator Award helps a junior primary investigator to successfully conduct and publish a multicenter trial, assembling data from five or more centers which seeks to answer an important and novel question in the practice of trauma, acute care surgery, or surgical critical care which will change or significantly affect the care of injured or critically ill patients. This award will be officially presented to Dr. Ratnasekera in July 2022.
This award will help Dr. Ratnasekera and her team perform the most reliable data collection and analysis for publication. The study seeks to answer a vital question in the management of the traumatic brain injured patient: what the optimal timing for initiation of venous thromboembolism prophylaxis?
Dr. Ratnasekera is board certified in Surgery. She received her medical degree from Lincoln Memorial University DeBusk College of Osteopathic Medicine, completed her general surgery residency at Rowan University School of Osteopathic Medicine, and her Surgical Critical Care and Trauma fellowship from Virginia Commonwealth University.
The Eastern Association for the Surgery of Trauma (EAST) provides a forum for the exchange of knowledge to advance the care and rehabilitation of the injured patient. More than 2,700 members participate in EAST's unique leadership, education, and career development programs. Its multidisciplinary membership includes trauma and acute care surgeons, emergency physicians, advanced practice providers, nurses, and medical students, among many others.