Crozer Health Announces its Latest Compliance Champion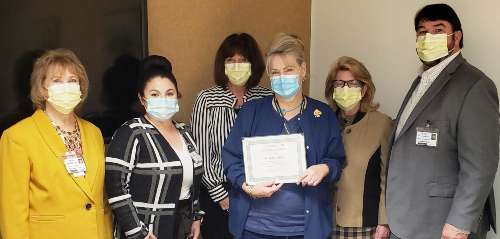 Crozer Health announced Stroke Program Coordinator Suzanne Hefton as the newest recipient of its Compliance Champion Award.
The Compliance Champion Award recognizes Crozer Health employees who do the right thing even when no one is looking. This means ethically stepping up even when it may be difficult. It could involve protecting patients' privacy, preventing fraud or abuse, or putting into practice Crozer Health's mission, policies, and code of conduct.
Hefton keenly noticed a potential breach of Protected Health Information and called the Compliance office. Her quick thinking prevented a HIPAA breach of the patient's personal information.
Hefton was presented with a framed certificate and a gift voucher for the Crozer Health Company store during a recognition event attended by Clinical Directors Elaina Kurtz and Margie Dieter-Murphy, Administrative Director Rhonda Long, Neurosciences Vice President Tim Shephard, Compliance and Privacy Officer Sandra Puka, and Compliance Manager Ray Conlin.
As Stroke Coordinator, Hefton ensures that Crozer Health stroke patients receive the care they need and provides them with education and resources to help them prevent another stroke from occurring. She has been with Crozer Health her entire professional career, beginning in 1983 after receiving her RN degree from the Nursing School of Wilmington, Delaware Academy of Medicine.
By recognizing and rewarding honesty and integrity, Crozer Health's Compliance team encourages other employees to prevent and identify potential Compliance or HIPAA-related issues.