Crozer Health General Surgery Residency Program Achieves ACGME Accreditation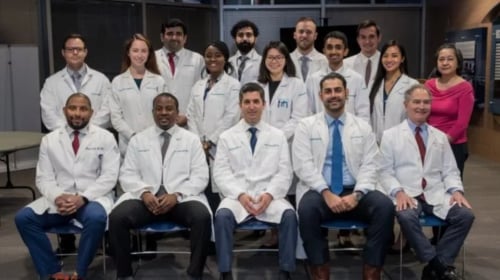 Crozer Health announced that the Accreditation Council for Graduate Medical Education (ACGME) recently granted its General Surgery Residency Program "Continued Accreditation without Outcomes." This status is awarded to programs that had an "initial accreditation" as a new program. The Crozer Health General Surgery Residency Program received "initial accreditation" in 2019.
The Crozer Health General Surgery Residency Program is led by Mark Kahn, M.D., FACS, RPVI, DFSVS, Program Director, and Maria Fuentes, Program Coordinator. It is five years in duration, has 15 residents, and will graduate its first class of residents in June 2022.
The program's mission is to train a diverse group of well-rounded, general surgery physicians who will be prepared to enter careers in whichever area they choose: fellowships, academics, private practice, or research. The program prepares the resident to perform the role of a surgeon at the advanced level expected of a board-certified specialist, and to direct interprofessional and multispecialty teams necessary for the care of surgical patients.
In addition to its general surgery program, Crozer Health has residency programs in emergency medicine, family medicine, internal medicine, OB/GYN, podiatry, sports medicine fellowship, and transitional year and ultrasound fellowship (emergency medicine) with a total of 142 residents and fellows.
The ACGME is a private, 501(c)(3), not-for-profit organization that sets standards for U.S. graduate medical education (residency and fellowship) programs and the institutions that sponsor them, and renders accreditation decisions based on compliance with these standards. In academic year 2019-2020, there were approximately 865 ACGME-accredited institutions sponsoring approximately 12,000 residency and fellowship programs in 182 specialties and subspecialties.
For more information on Crozer Health's residency and fellowship programs, visit https://www.crozerhealth.org/academics/residency-fellowship/.