Program News | Family Medicine Residency Program
Dana Heller, DO, PGYII, was recently involved in the resuscitation of one of The Eye Institute staff members while on rotation. The President of Salus University, Dr. Michael Mittelman, honored Dr. Heller at a Salus Board luncheon on September 19, 2022.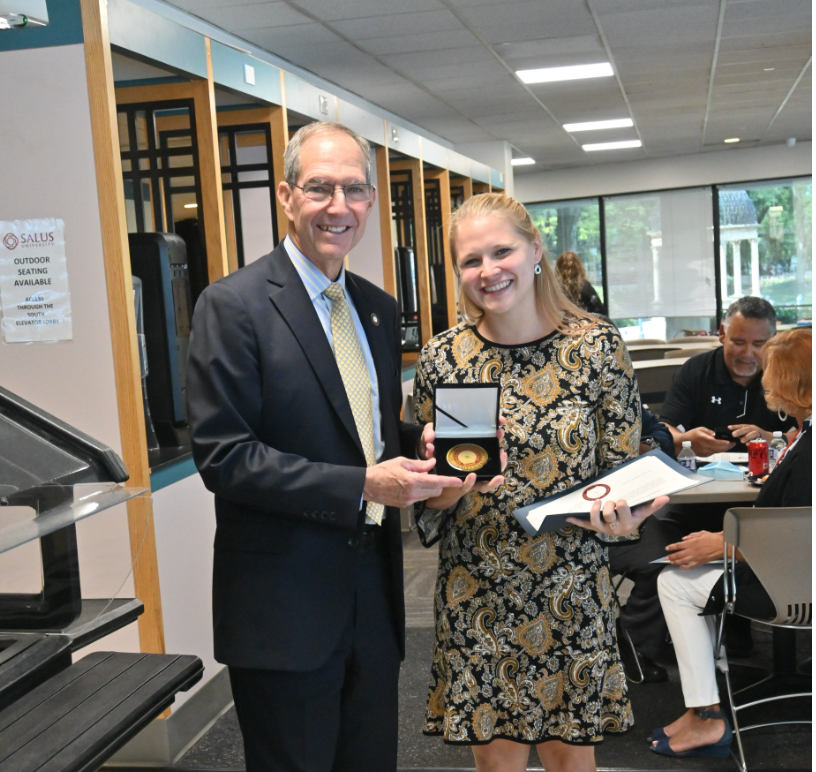 Leon McCrea, II MD, MPH, Graduate 2010 and Margot Savoy, MD, MPH, Graduate 2005 presented at the AAFP Residency Leadership Summit in Kansas City in March 2022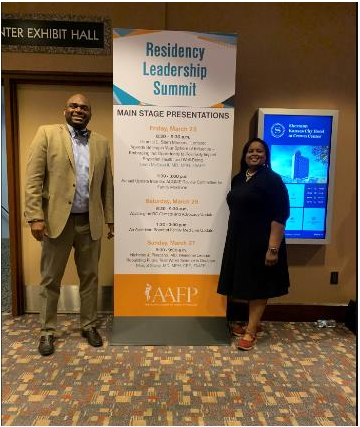 Michael Suffredini, Graduate 2021 - Due to my interest in Sports Medicine, I am currently working with our Sports Medicine attendings and local Athletic trainer at Upper Darby High School. Our plan is to allow residents to rotate at Upper Darby's training room. This would involve evaluating high school athletes with the athletic trainer and precepting with the sports medicine attendings to provided better care to our local athletes.
Amber Char, Graduate 2022 - RRT Morning Report Curriculum: A series of standardized lectures covered throughout each year focusing on acute medical topics geared toward increasing resident knowledge and skills in managing an unstable patient in various medical scenarios. Lead by our second-year residents.
Christle Guevarra and Jenna Kastan – Graduates 2020 - Antibiotic Time -Out, created with the help of Infectious Disease and Pharmacy at our community hospital – Delaware County Memorial Hospital. This project resulted in improved accuracy of antibiotic coverage that would go on to be distributed throughout the Crozer system.
Robert Perkins – Graduate 2019

The administrative leader fellowship with Crozer Health and Prospect medical system is a unique opportunity for physician leaders to expand their skills and advance their career in the health care industry. Supported by the executive team at Crozer Keystone health system as well as Prospect medical systems in southern California the fellow will have unparalleled access to mentorship within these systems. The one year, project-based fellowship is designed to be tailored to each fellow's interests to ensure the most meaningful experience. The administrative fellow will lead system-wide projects while continuing to practice clinical medicine.
The bi-coastal design enables the Fellow to work exclusively in southern California with Prospect medical system, exclusively in the Philadelphia area with Crozer Health or pursue a 6 month split between the two sites. Each location offers a unique perspective on the healthcare industry and fellows are encouraged to spend time at each site to optimize their experience.
This fellowship was designed by physicians with the intention of bringing more doctors into the healthcare leadership environment.
How to Apply and Interview
All applications to the Crozer Health Family Medicine Residency Program must come through the Electronic Residency Application Service (ERAS). The deadline for receiving applications is December 31.
Contact Us:
For more information, please contact:
Crozer Health Family Medicine Residency
1260 East Woodland Avenue, Suite 200
Springfield, PA 19064
Phone: 610-690-4471
E-mail: fmresidency@crozer.org