Residents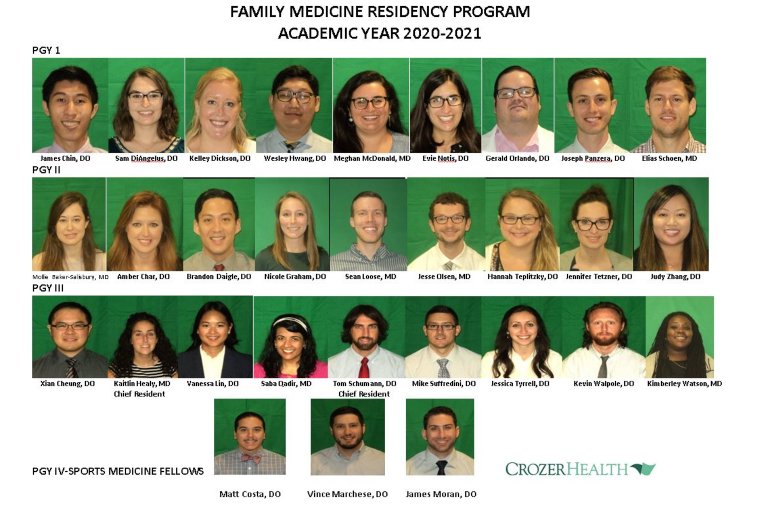 PGY-1 Residents
Medical Education: Touro College of Osteopathic Medicine – Middletown, N.Y.

Undergraduate Education: Villanova University – Villanova, Pa.

Contact: james.chin@crozer.org

James grew up in the small town of Branchburg, N.J., He spent four years at Villanova University where he received a bachelor's degree in comprehensive sciences, along with a mathematics minor. James pursued family medicine because of the long-term relationships of patients and having the opportunity to encourage and teach healthy lifestyle changes to patients.

During interview season, James was impressed with Crozer's curriculum that empowered the resident to pursue different tracks within family medicine and a supportive diverse faculty that encourages you to explore. After the interview, he knew that he could envision himself being part of the Crozer Family. At Crozer, James' current interests are in sports medicine, practice management, and leadership.

In his free time, James enjoys spending time with family and friends, taking afternoon naps, fitness, and watching sports (especially the Villanova Wildcats).

Medical Education: Marian University College of Osteopathic Medicine – Indianapolis

Undergraduate Education: New York University – New York

Contact: Samantha.diangelus@crozer.org

Sam is originally from a small town on Long Island, N.Y., where she grew up with her parents and older brothers. She attended college at New York University where she created her own major at the Gallatin School of Individualized Study. She fulfilled the pre-med pre-requisites while taking courses in the social sciences to develop a theory on human identity formation. Her undergraduate days were spent heavily contending with the theory of nature versus nurture. Upon completing her degree at NYU, she moved to the suburbs of Philadelphia where she spent two and a half years working in direct care, completing a post-baccalaureate master's program at Rutgers University, and then scribing in a private ophthalmology practice before ultimately leaving the east coast to start medical school. Sam entered medical school with the understanding that she would become a family physician due to her love for the continuity of care and relationship building that occurs in the field. Sam's time at Marian University College of Osteopathic Medicine reaffirmed her passion for patient education, health literacy, and advocacy, and sparked her interest in academic and geriatric medicine. She is so excited to be back east at Crozer surrounded by faculty and residents with a passion for teaching and caring for patients.

Sam currently lives in Glen Mills with her husband, Sal, and two cats, Augustus and Dido. Outside of work, she can be found exploring local parks, baking and cooking new gluten-free recipes, playing strategy games with friends, or just kicking back with her husband re-watching episodes of The Office for a good laugh.

Medical Education: Philadelphia College of Osteopathic Medicine

Undergraduate Education: West Virginia University

Kelley grew up in Columbia, Md., with her parents and two younger brothers, to whom she stays very close. She attended WVU for undergraduate school where she studied psychology. After graduation from college, she worked in a laboratory doing bench research for one year. Although she loved the basic sciences, she decided clinical medicine was her passion. She subsequently earned her master's in biomedical sciences from PCOM before matriculating into the Doctor of Osteopathic Medicine Program in 2016. During medical school, Kelley enjoyed participating in multiple leadership positions, including DO class council representative and Addiction Medicine Club treasurer. Within family medicine, Kelley is interested in women's health and in-office procedures.

For fun, Kelley loves staying active and exploring Philadelphia. One of her favorite activities is running. She ran the Philadelphia Marathon during her third year of medical school and would love to run another marathon during her time in residency.

Wesley was born in New York City, but grew up in the Poconos in the town of Stroudsburg, Pa. He attended Penn State for his undergraduate education and received a Bachelor of Science in Pre-medicine. He then completed a Master of Biomedical Sciences program at the Geisinger Commonwealth School of Medicine in Scranton, Pa. Afterwards, he spent time working as a Medical Assistant at a PM&R office, where he came to realize his interest in building rapport with patients.

During his third year of medical school, Wesley decided to pursue family medicine as his specialty. He values the wide range of medicine that family medicine encompasses and the importance of the patient-physician relationship in providing the best care. Wesley holds interests in preventive medicine, global medicine, and working with underserved populations and aspires to go on medical missions in the future. He is excited to be at Crozer where he can learn and be in a community that will foster those ambitions.

Wesley enjoys playing pick-up basketball and volleyball and is always looking to discover new music. Sometimes, you might find him supporting his beloved Liverpool F.C. Most importantly, he enjoys spending time with his wife, Julie.

Medical Education: Lewis Katz School of Medicine at Temple University – Philadelphia

Undergraduate Education: University of Pennsylvania – Philadelphia

Contact: Meghan.mcdonald@crozer.org


Meghan grew up right outside of Scranton, Pa. Yes, that silly place where The Office is based. She moved to Philadelphia to attend UPenn for her undergraduate degree in Public Health, and has never left! After college, she worked at the Camden Coalition of Healthcare Providers as a health coach. This experience fueled her drive to become involved in primary care.

In medical school at Temple, Meghan was inspired by her mentors in family medicine and her patients during her rotations! She is drawn to fostering the doctor-patient relationship and contributing to the health of her community.

Outside of medicine, you can find Meghan at the beach with her dog, Mae, or watching Property Brothers.

Evie was born and raised close by in Allentown, Pa. She comes from a big family, and is the middle of five siblings. She went to Brandeis University in Waltham, Mass., for her undergrad degree in biology and health policy. While there, she and her wonderful now-husband Noam enjoyed picking apples and exploring the rest of New England.

Evie and Noam moved to New York City after graduating so that she could go to Touro College of Osteopathic Medicine. During her rotations, she discovered the fulfillment of working with the underserved and practicing preventative medicine. The variety of ages and breadth of medicine that family medicine offers is what ultimately drew her to the field. She is so happy to be training at Crozer because of the warm culture and great experiences offered.

In her free time, Evie enjoys baking and running. She completed her first half marathon in New York's Central Park in February. She also enjoys hiking with her husband and dog, and hunting down the best pizza and beers.

Medical Education: Philadelphia College of Osteopathic Medicine – Philadelphia

Undergraduate Education: Saint Joseph's University – Philadelphia

Contact: Gerald.orlando@crozer.org


Gerald was born and raised in South Philadelphia where he still resides now. He attended Saint Joseph's Prep High School before attending Saint Joseph's University where he earned a major in biology and a minor in chemistry and classics. Gerald attended medical school in his hometown of Philadelphia at PCOM, where he helped start the Addiction Medicine Club.

Gerald's love of medicine started at a young age when he realized a love of basic sciences. His love of family medicine was sparked through his interaction with his own primary care doctor, whom he shadowed during undergrad. He completed his fourth-year clerkship in family medicine at Crozer and fell in love with the program and immediately felt a part of the family. He hopes to pursue his interests in sports medicine and addiction medicine.

Outside of medicine, he enjoys playing his banjo and guitar, spending time with his beautiful wife Valerie, fishing everywhere possible, and being a die-hard Philadelphia sports fan

Medical Education: Touro College of Osteopathic Medicine – Middletown, N.Y.

Undergraduate Education: Rutgers University – New Brunswick, N.J.

Contact: Joseph.panzera@crozer.org

Joseph is originally from Nutley, N.J., where he was born and raised. He spent four years at Rutgers University where he earned his bachelor's degree in biology with a minor in psychology. It was during his time at Rutgers University when he began working in healthcare and began to develop a passion for medicine. After earning his medical degree from Touro College of Osteopathic Medicine in Middletown, N.Y., he moved to Philadelphia to begin residency.

In medical school, Joseph was drawn to family medicine because it allowed him to develop a strong relationship with his patients as well as the wide variety of patients that could be seen in a typical day. Family medicine also allowed Joseph to interact with patients in a primary care setting and focus on preventative care. He is particularly interested in sports medicine and academic medicine.

In Joe's free time, he enjoys traveling, running, hiking, baking, cooking, and spending time with his fianceé, Olivia, and puppy, Clover.

Born and raised in the northeast, most recently from Burlington, Vt., where he completed his undergraduate and medical school at the University of Vermont, Elias, his spouse, and three children made the big move to the city this spring and they are excited about exploring all Philly has to offer! Professionally, Elias is excited about providing care for underserved populations, women's health, as well as addiction and mental health treatment in the primary care setting. He enjoys following politics and listening to NPR, spending time outdoors with family and friends, running, and playing tennis.
PGY-4 Sports Medicine Fellows
Medical Education: Philadelphia College of Osteopathic Medicine - Philadelphia, PA

Graduate Education: Saint Joseph's University Erivan K. Haub School of Business - Philadelphia, PA

Undergraduate Education: West Chester University of Pennsylvania - West Chester, PA

Contact: Matthew.costa@crozer.org

Matt grew up in Cheltenham, Pennsylvania. As a native Philadelphian, he chose to stay close and attend West Chester University where he studied Cell & Molecular Biology, Chemistry, and Anthropology. He spent a year after college learning to be a southern gentleman in Charlotte, North Carolina, where he worked as a traveling recruitment and leadership consultant all across the United States.

Spending most of his summers in Portugal with his grandparents, Matt developed a love for exploring the differences of how healthcare delivery changes depending on culture. The interdependence of mind, body, and spirit led him to pursue a degree in osteopathic medicine back in his beloved city at the Philadelphia College of Osteopathic Medicine. While there, he developed a strong passion for osteopathic manipulative medicine, acupuncture, and "hands on healing". He has taught manipulations to the medical staff of local professional sports teams and even overseas in Frankfurt, Germany. He hopes to bring this passion and skill set to the people of the Delaware County community. For him, family medicine is a way to give patients ownership of their health by bringing a new level of collaboration and awareness on their road to wellness.

Matt enjoys the beach as his sanctuary, where he loves surfing the waves of the Jersey coast. He is a life-long skateboarder with a part-time yoga obsession. As an avid lover of Mother Nature, you can often find him rock climbing, camping, or fishing whenever he can steal a date with her. As a retired college soccer player, he enjoys staying fit by running and weight lifting.

Medical Education: Rowan School of Osteopathic Medicine - Stratford, NJ

Undergraduate Education: Monmouth University - West Long Branch, NJ

Contact: Vincent.marchese@crozer.org

Vincent is a native of South Jersey and completed his undergraduate degree in Biology with a concentration in Molecular Cell Physiology at Monmouth University. Before entering medical school at Rowan University School of Osteopathic Medicine, Vincent worked as a pharmacy technician.

During medical school, Vincent developed a passion for family medicine with special interests in addiction medicine and sports medicine. Vincent was drawn to family medicine because of the continuity of care, case diversity, and emphasis on preventative healthcare. After experiencing the camaraderie and support between residents, faculty, and staff, deciding to train with Crozer Family Medicine was an easy choice for Vincent.

Vincent was recently married in May 2017! He and his wife, Kylie, are passionate sports fans and enjoy coaching youth sports, as well as, spending time with friends and family. In addition, Vincent enjoys cooking, traveling, and woodworking.

Medical Education: Rowan University School of Osteopathic Medicine - Stratford, NJ

Undergraduate Education: Montclair State University - Montclair, NJ

Contact: James.moran@crozer.org

James was born and raised in the northern New Jersey town of East Hanover. He is the oldest of four children. He grew up playing and watching all sports but has aspired to become a doctor ever since he realized he would not be playing shortstop for his beloved New York Yankees. James studied biology at Montclair State University and stayed in New Jersey for medical school, attending RowanSOM.

Early on in his medical education, James developed a passion for family medicine. He was drawn to the opportunity to work with patients of all ages, develop long-lasting relationships, and to educate patients and take the necessary time for them to receive the best care possible. James rotated at Crozer Family Medicine early on in his fourth year of medical school and was immediately drawn to the program. It is the people, from the attendings, staff, and residents, who make Crozer special and why he wanted to train here. James has a particular interest in primary care sports medicine.

Outside of medicine, James enjoys exercising, watching and attending sporting events, going to the beach, and spending time with family and friends.
How to Apply and Interview
All applications to the Crozer Health Family Medicine Residency Program must come through the Electronic Residency Application Service (ERAS). The deadline for receiving applications is December 31.
Contact Us:
For more information, please contact:
Crozer Health Family Medicine Residency
1260 East Woodland Avenue, Suite 200
Springfield, PA 19064
Phone: 610-690-4471
E-mail: fmresidency@crozer.org