Don't Let Thanksgiving Dinner Throw You Off Track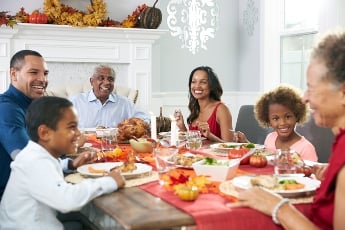 The average American consumes an eye-popping 3,000 calories at Thanksgiving dinner alone. Add in appetizers, drinks and dessert and the total can swell to 5,000 calories. That's double or even triple the recommended caloric intake for an entire day.
While those number are sobering, one Crozer Health dietitian says it's important to put this calorie bomb into perspective.
"My advice is to enjoy yourself on Thanksgiving, eat what you want, but don't overindulge," said Danielle Lockard, RD, LDN, CDE, CPT, an outpatient dietitian in Crozer's Center for Diabetes/Outpatient Nutrition Center. "It's unrealistic to tell people to eat kale and tofu on Thanksgiving. The key is to not let that one bad day roll over into the following days, weeks and months."
Lockard offers the following tips to keep the calories under control on Thanksgiving Day:
Freeze leftovers to avoid feeling like you must rush to eat everything before it goes bad.
Don't starve yourself before dinner. A healthy, satisfying breakfast and lunch will help you avoid overindulging at dinner.
Skip appetizers or at least offer a healthier alternative like a vegetable platter.
Eat regular portions at dinner instead of building a food mountain on your plate or going back for seconds and thirds.
Swap out one of the many starches at dinner with a vegetable dish.
Stay hydrated during the day so you're not as hungry at dinner.
Do something active that stimulates your body to burn calories either before or after dinner.
"The reality is that one day is not going to make a difference over the long run," Lockard said. "It takes 3,500 calories to gain an extra pound. Even if you eat that on Thanksgiving, it's still only one pound. If you get back on the healthy-eating horse the next day, that one pound can come off quickly."