Make this Year's Resolution the One that Sticks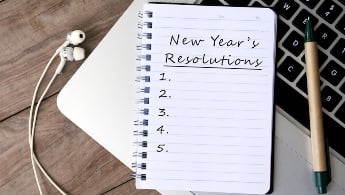 With the start of a New Year comes the opportunity for a fresh start. It's only human to want to improve ourselves, and it's all the more enticing when our family and friends are doing it, too.
Research indicates that about 60 percent of us make New Year's resolutions, but only about eight percent are successful in achieving them. In an effort to nudge that number a little higher, Kevin P. Caputo, M.D., F.A.P.A., President and Chief Behavioral Officer of Psychiatry and Behavioral Health for the Crozer Health , offers some simple advice for making sure this year's resolution is the one that sticks.
To start, be realistic about what you want to change. If you want to lose some weight, target 10 pounds instead of 50. If you want to quit smoking or drinking, aim to first stop for a month. By having your goal within reach from the start, you're more likely to achieve it. And, that success is likely to motivate you to keep going, said Dr. Caputo.
Once you have a goal, get to work on piecing together a strong support system. Get the whole family onboard with eating healthier and exercising more. Then you can hold each other accountable and you won't feel like you're on an island.
Above all, give yourself a break.
"It can't be all or nothing. If you enter into a resolution with that mindset, it puts unnecessary pressure on you. And then, when the progress slows or you fall back to your old ways, the natural tendency is to quit," Dr. Caputo said. "But, the most significant changes occur gradually, over time."