Quick Thinking and Teamwork Save Mother and Baby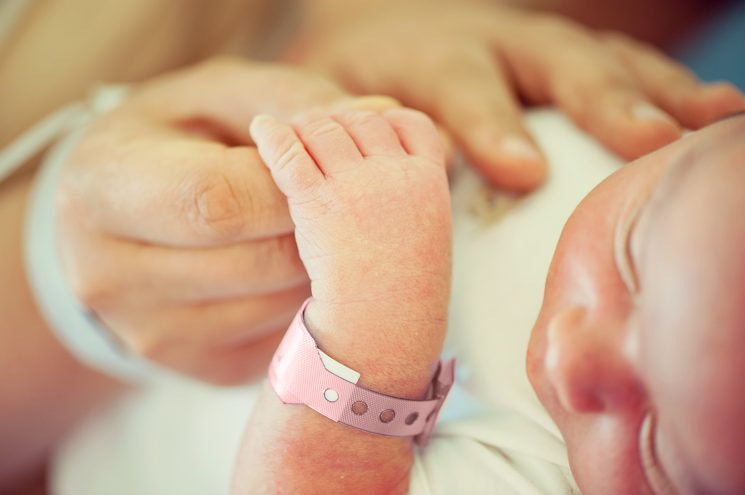 Lisamarie Poehlmann woke around 2:30 a.m. with what she thought was terrible gas pain. She climbed out of bed and tried to walk it off, but as the fog of sleep faded and the pain intensified, she knew it wasn't gas.
Poehlmann's thoughts jumped next to her baby—she was 36 weeks pregnant with her fifth child. "I've gone through natural childbirth, and this felt like the worst contraction I'd ever had," she said. "But I was really confused at that point, because I was thinking there was no way I slept through the start of labor."
Suddenly, Poehlmann was hit with another wave of pain. She let out a guttural moan in response. She felt next what she described as a pop and then a surge of pressure shoot down her entire body.
"The pain by that point was the worst pain I'd ever felt," Poehlmann said.
She told her husband to call 9-1-1. Paramedics took Poehlmann to the emergency department of her local community hospital. Once her doctors were able to determine she wasn't in labor and her baby was safe, they gave her medication, which relieved Poehlmann's pain to the point that she was able to sleep for a little while. A CT scan later revealed that she may have had a perforated bowel.
That news prompted her transfer to Crozer-Chester Medical Center, where she'd undergone gastric bypass surgery about 18 months earlier. Poehlmann was greeted by Sergey Zhitnikov, M.D., FACS, FASMBS, the surgeon who performed her gastric bypass. He explained the urgency of her condition.
"In a situation like this, when you have a bowel perforation, the infection can spread very rapidly," said Aley E. Tohamy, M.D., FACS, FASMBS., Chair of the Department of Surgery for the Crozer Health . "If we couldn't prevent that from happening, we'd run the risk of losing mom and baby. So, it was imperative that we act quickly."
After discussing a couple different courses of action, Dr. Zhitnikov and Natalie Degaiffier, M.D., the attending obstetrics physician, determined the baby was healthy enough to be delivered. In that case, delivering the baby first and then repairing the ulcer "posed the least risk for the baby and the mother," Dr. Zhitnikov explained.
Dr. Degaiffier delivered the baby—Madelyn—without complication through a vertical C-section. She weighed five pounds and six ounces. Three months later, she'd already doubled her weight thanks to an insatiable appetite. Immediately after the delivery, Dr. Zhitnikov repaired the ulcer.
Poehlmann met Madelyn three days later, when she was also reunited with her four other children. "I cried. It was a very emotional moment," she said. "I remember feeling very relieved that everyone was OK. It could have turned out very differently."
Poehlmann wasn't conscious for Madelyn's delivery. Her last memory of that night is of Dr. Zhitnikov holding her hand in the operating room as the anesthesia took effect.
"I'm very thankful for my doctors, especially Dr. Zhitnikov. He truly went above and beyond. By sitting with me and holding my hand through all of that chaos, I really felt like everything was going to be OK," she said. "From here on out, I'm only turning to Crozer Health for my health care."