TAVR Revolutionizing Treatment of Aortic Valve Disease
Now at Crozer-Keystone!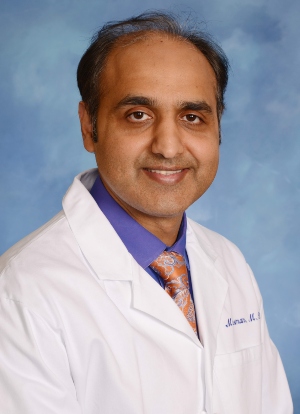 The name of the procedure is a mouthful, but the impact it's having on patients is huge. It's called transcatheter aortic valve replacement—TAVR for short—and it's revolutionizing how patients with aortic valve disease are treated at Crozer Health .
"Put simply, TAVR involves the replacement of a diseased or malfunctioning aortic heart valve through a very small incision in the groin you cannot even see," said Muhammad Raza, M.D., FACC, director of the Cardiac Catheterization Lab at Crozer-Keystone.
TAVR is used to treat patients with a specific condition called aortic stenosis—a progressive, life-threatening disease that causes a narrowing of the aortic valve. Most common in middle-age and elderly patients, this narrowing reduces the flow of blood out of the heart and throughout the rest of the body. The only way to fix the problem is to replace the faulty valve.
"Think of the heart as a house and the valves are the doors," Dr. Raza said. "The aortic valve is the main door and if it doesn't open and shut well, blood can't be pumped out of the heart very efficiently. That leads to shortness of breath and chest pain but occasionally loss of consciousness and possibly even death."
In the past, open heart surgery was the only way doctors could replace the aortic valve. However, some patients are at high risk for complications from traditional surgery due to age or other health conditions. That means they couldn't have surgery. TAVR solves that problem.
How TAVR Works
During the TAVR procedure, doctors carefully thread a new aortic valve to the site of the diseased valve through a catheter in an artery in the groin. Once there, the new valve is secured into place and immediately begins correcting the flow of blood.
Following the procedure, which typically requires a one- or two-night hospital stay, patients report an almost total elimination of their symptoms.
"At Crozer-Keystone, we have both an experienced team of doctors and the facilities to perform complex procedures like TAVR," Dr. Raza said. "Patients appreciate that they can stay close to home and get the best care locally."
TAVR procedures at Crozer-Keystone are performed in a state-of-the-art cardiac hybrid room. This room integrates the features of an operating room with the imaging technology of a catheterization laboratory. Here, the Crozer-Keystone TAVR team collaborates to provide the best possible outcomes for patients.
Expanding the Patient Pool
When it was first introduced, TAVR was only used in patients who are at high risk for complications from traditional open-heart surgery. Recent studies have shown, however, that TAVR is also effective in younger, healthier patients. In fact, TAVR is now considered the standard of care for aortic stenosis, no matter a patient's age or health.
"For those of us in this field, TAVR is a bit unbelievable," Dr. Raza said. "Ten years ago, this wasn't even imaginable and now it's commonplace. Having TAVR available at Crozer-Keystone means we can provide our patients with the high-end cardiac care they need, right here at their doorstep."