Got Fall Allergies? Get Prepped Now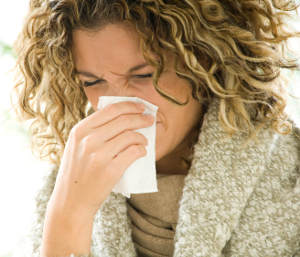 When the seasons start to change, it's time for allergy sufferers to gear up for their fall allergies. Preparing in advance can help you get ahead of hard-to-fight symptoms later.
While fall allergens might not be as obvious as those in the spring, there are plenty of triggers that can be in your day-to-day routine. Ragweed, mold and dust mites are a few allergy triggers that pop up in the fall.
"Even though they are known as 'fall' triggers, some allergies can start to flare up at the end of summer," says Nicole Froio, R.N., BSN, clinical director of Crozer Health 's urgent care centers. "Plan ahead to when you should start taking allergy medications and make other preparations before your symptoms normally start."
Prepare Your Medication
Before starting any allergy medication, talk to a doctor or allergist. If you're unsure if you have allergies or start to have symptoms, your healthcare provider can provide a diagnosis and treatment options.
"Your doctor may also recommend immunotherapy, antihistamines, or decongestants in some cases that can ease certain symptoms," says Froio. "These treatments are given as shots, sprays, capsules or tablets depending on the medication."
Your doctor can also recommend allergy medications or treatments you can get without a prescription. Be sure to check with your doctor when you should be taking your allergy medication (typically two weeks before your symptoms start) and that you are taking the right dosage at the right time.
Clean Your Home
The best way to combat allergies at home is to make sure allergens get out and stay out. Clean out air vents and filters–places where bits of mold, ragweed, and other allergens can hide.
Keep all windows and doors shut to keep out unwanted allergens. Be sure to do this when pollen counts in your area could be high, such as around the middle of the day.
Mold allergies can be tricky to manage in the fall. Mold can grow anywhere there is water, such as in your basement, bathroom or when dead leaves start to pile up in your yard. Mold in your home can be managed with moisture control.
Try to keep surfaces in your home as dry as possible. Clean your bathroom, gutters, and any standing water around the house. Using fans and keeping your home's humidity low can also help.
Track Pollen and Mold Counts
Along with keeping allergens out of your house, track pollen and mold counts in your area. High pollen counts are usually reported on warmer and windy days. Monitoring these counts will help can have a better understanding of when your allergies are likely to flare up and when it may be better to stay inside.
Get Covered for Outdoor Chores
With fall can come a lot of outdoor work like mowing the lawn and raking leaves. Working outside can give you direct contact with fall allergens and cause your symptoms to flare up.
"If you are working outside this fall, wear a NIOSH-rated 95 filter mask and gloves to avoid direct contact with pollen. Take your allergy medication before going outside," says Froio. "If your allergies are severe, consider hiring someone or asking a family member or friend to do your outdoor chores."
Healthy Living in Your Inbox