Crozer Health Recognizes Sheryl Weersing R.N. as DAISY® Award Recipient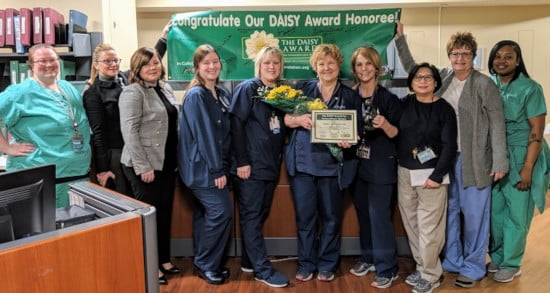 Sheryl Weersing R.N., of Maternity at Crozer-Chester Medical Center, was recently recognized by Crozer Healthas a recipient of The DAISY® Award.
The DAISY® Award is a program that recognizes excellence in nursing and was created by The DAISY® Foundation to highlight the clinical skills, extraordinary passion, and care exemplified by nurses every day. Award recipients consistently demonstrate each of the following criteria: Dedicated, Autonomous, Innovative, Selfless and Extraordinary.
Sheryl was nominated for The DAISY® Award by a patient at Crozer-Chester Medical Center for the compassion and comfort she provided during their visit. "Sheryl went above and beyond during our stay - she made us feel at home and like we were her top priority. Sheryl went out of her way to answer my questions and make sure I understood each answer. She helped with breastfeeding, swaddling, paperwork, and treated us with such amazing support," the patient said. "Our family is truly grateful for Sheryl's kindness and dedication – she is an amazing nurse with such a selfless attitude."
"Sherry displays the utmost care for all of her patients and families. She spends the necessary time to make sure her patients feel comfortable with infant care and goes above and beyond with breastfeeding instructions," says Georgine Delozier R.N., Maternal Child Health at Crozer-Chester Medical Center. "Sherry has been a nurse at Crozer for many years and is willing to help her co-workers whenever and wherever she can. She is a major asset to our Maternal Child Health department."
The DAISY® Foundation and The DAISY® Award
The not-for-profit DAISY® Foundation was established by family members in memory of J. Patrick Barnes, who died in 1999 at the age of 33 from complications from an autoimmune disease. The care that Barnes and his family received from nurses throughout his illness inspired this unique means of thanking nurses for making a profound difference in the lives of their patients and patient families.
Each DAISY® Award honoree is recognized at a public ceremony on his or her unit and receives a certificate, a DAISY® Award pin and a beautifully hand-carved stone sculpture. In addition, the unit celebrates their colleague's achievement with Cinnabon cinnamon rolls, which were a favorite of Patrick's during his illness.