Healthplex Transition to Springfield YMCA
Thank You for Your Questions!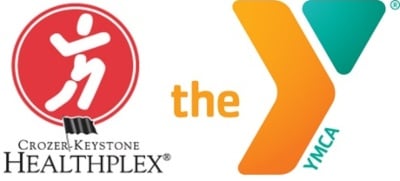 During this exciting time when Crozer Health 's Healthplex Sports Club is transitioning to YMCA ownership, we've received lots of questions about membership, benefits and the Y's plans for the facility. Thank you so much for staying engaged and being an active member. Your questions have likely been answered by now, either in communications from Crozer Health or Community YMCA of Eastern Delaware County; however, here is a recap of the questions most frequently asked.
Q: When will the transition from Healthplex to YMCA occur?
A: On January 18, 2020, the Community YMCA of Eastern Delaware County will take ownership of the Healthplex Sports Club. The facility will be renamed Springfield YMCA.
Q: Will the campus – including Springfield Hospital, the medical office building, the parking garage and the sports club – still be called Healthplex?
A: The name Healthplex will no longer be used to represent any of the facilities on Crozer Health 's Springfield campus. Signage may take a while to update, however.
Q: Will the Springfield YMCA provide parking for it members?
A: Free parking will be included as a benefit of Springfield YMCA membership. You can continue to park in the adjacent parking garage.
Q: Will employees and physicians of Crozer Health still have the same benefits of membership as they did with the Healthplex?
A: Membership rates and details will indeed be different under Y ownership, and it is advisable to read all communications issued by the Community YMCA of Eastern Delaware County to understand what the changes mean to you. The Y's membership rates are posted below. There are lots of new opportunities that will be available to Healthplex members after the transition. The YMCA has committed to maintaining the "provider wellness" program we started for our residency programs and employed medical staff.
Q: Will my Y membership in Freedom Valley's Havertown YMCA allow me to use the Springfield YMCA?
A: Yes, all Y members can access any Y throughout the county. To learn more about how memberships at Springfield YMCA and other Delaware County YMCAs are related, please contact the Community YMCA of Eastern Delaware County at 610-713-5252, or email hplex@cyedc.org.
Q: How soon may I cancel my membership? I have not been using the Healthplex as much as I thought I would, and doesn't make sense for me to continue paying for it.
A: Membership at the Springfield YMCA will be month-to-month, so you can cancel at any time with no penalty. Your existing Healthplex membership agreement will end on 1/17/2020.
Q: Will the Y offer yoga classes at Springfield YMCA?
A: Yes, the Y will offer yoga and most classes currently offered at the Healthplex. For more upcoming opportunities, visit the Community YMCA of Eastern Delaware County on Facebook, Twitter, and Instagram.
Q: Healthplex membership has been very important to me and my family. I am concerned that this decision was made hastily and will result in lesser experiences. Why did Crozer Health donate the sports club to the Y, and why should my family continue our membership?
A: Your concerns have been heard and we're glad you are asking questions. Crozer Health has been reinventing itself with higher acuity medical and surgical programs, improved access to care, and a care model that is entirely integrated with our physician network. By focusing on delivering great care to our patients, we have not been able to give the Healthplex the attention it needs. Finding a partner in the YMCA was a great solution, and we are proud of the results that you will experience. According to the Community YMCA of Eastern Delaware County, some of their plans for the Springfield YMCA include:
Replacing the old fitness equipment with all-new, state-of-the-art fitness equipment;
Replacing the carpet in the fitness center with new flooring;
A new ADA-compliant pool lift for the lap pool;
New lighting in the pool area;
A "Kid Zone" offering free babysitting services with membership, good for two hours while you're using the Y facility;
New youth fitness programs and other youth programs coming in spring 2020, designed to build performance, fitness, confidence, and character;
Group fitness and water fitness classes included as a benefit of membership;
Silver Sneakers and other insurance-covered programs, coming in spring 2020; and
Again, free parking in the adjacent garage with Springfield YMCA membership.
These new features and more will be available at the Springfield YMCA, if not immediately then soon to come. We are confident that you will be happy with all of the opportunities available with your membership. If you have additional questions, please call the Community YMCA of Eastern Delaware County at 610-557-9622, or email hplex@cyedc.org for more information.
Upcoming membership rates for Springfield YMCA are posted below: