Congratulations to Crozer Health's 2020 Main Line Today Healthcare Heroes!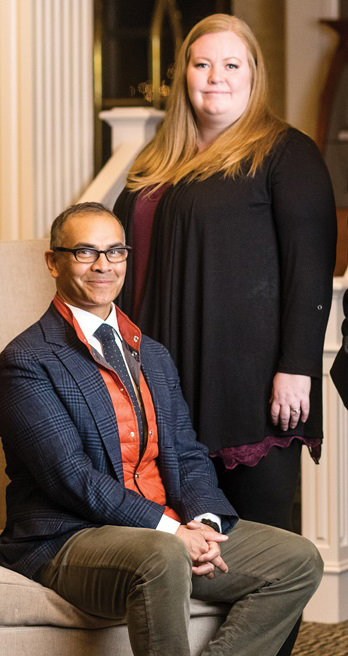 We at Crozer Healthare very proud to announce that three of our colleagues were nominated and selected to Main Line Today magazine's 2020 Healthcare Heroes. "This year's Healthcare Heroes are redefining medicine in our region," said the publication. "Now more than ever, we are honored to recognize their work."
This year's celebrated Healthcare Heroes from Crozer Health are GNI at Crozer neurosurgeon, Dr. Atom Sarkar; PEARL certified recovery specialist, Christine Webster; and oncologist, Dr. Christina Clay. Read more about these and all of our region's "Healthcare Heroes" for 2020.
Atom Sarkar, M.D., PhD, FAANS – Director of Stereotactic, Functional and Epilepsy Surgery at the Global Neurosciences Institute at Crozer, Dr. Sarkar performs highly technical surgeries that reduce or eliminate the symptoms of epilepsy, Parkinson's disease, brain tumors and complex spinal injuries. "It's the closest thing I do that's close to magic," he said.
Christine Webster, CRS, PICM – As a Certified Recovery Specialist in the PEARL program at Crozer-Chester Medical Center, Webster works with addicted mothers and their babies, making sure they have the knowledge and access to services they need to avoid relapsing at a time when the possibility is very high. "Post-partum, the potential for relapse is high," she said. "If I can intervene, I can save the life of a mother and her baby."
Christina Clay, M.D. – Dr. Clay is opening a program this summer that educates high school students about hematology and oncology. "My goal is to educate and inspire the next generation of health care providers," she said.
Congratulations to all three of MLT's Healthcare Heroes, and thank you for your dedication to our community.