Advance Your Nursing Career
Nursing Education and Professional Development Opportunities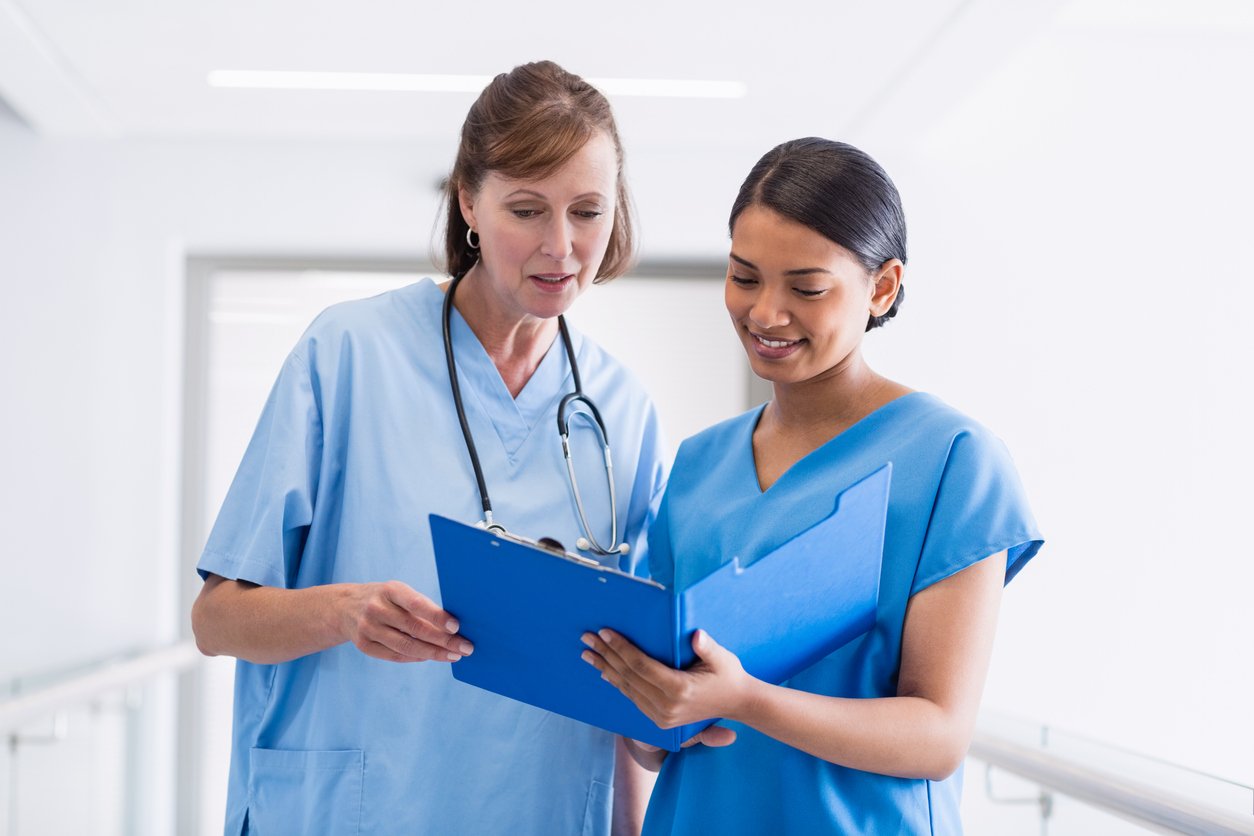 At Crozer Health , we are committed to training the healthcare providers of today and tomorrow. If you are starting your nursing career or looking for opportunities to enhance your skill set, we have educational and professional development programs for you.
Nurse Residency Program
Crozer Health is committed to transitioning newly licensed nurses successfully in the organization.
The Nurse Residency Program is designed to help newly licensed nurses navigate the role of RN while delivering safe, effective, and quality patient care. Through the year-long program, newly licensed RNs are provided structured, innovative learning opportunities to improve patient outcomes, enhance their leadership skills, and build their professional development portfolio. The year-long curriculum brings together the newly licensed nurses across the organization to build a peer networking community and foster an environment of nursing excellence.
Preceptor Program
The Preceptor Development Program at Crozer Health ensures that Registered Nurses are provided an excellent orientation program to all new hires in the organization.
Effective and ongoing preceptor programs are the backbone to a strong onboarding and orientation experience. Our nurse preceptors are trained using an evidence-based curriculum and are afforded ongoing professional development opportunities which include providing constructive feedback, precepting across the generations, and using innovative strategies to build critical thinking in the new Registered Nurse.
Healthstream
Crozer Health is committed to ensuring high-quality education to staff at the point of service.
Healthstream is the learning management system for Crozer Health . Healthstream is the leading provider of online learning opportunities designed specifically for healthcare. This platform allows for all nurses to complete mandatory learning and ongoing professional development at their own convenience. Through the Healthstream Continuing Education (CE Center) RNs are afforded the opportunity to develop professionally and prepare for specialty certification exams.
Clinical Educational Program
Crozer Health is committed to providing clinical experiences for local schools and colleges of nursing and fosters an environment of learning for students.
Student nurses are welcomed on specialty and general medical/surgical floors to gain experience in delivering safe and effective patient care in a supervised learning environment. As a clinical site, students will experience true-to-life experiences across the continuum of care.
Nursing Leadership Development
Nurse Leader Academy
Crozer Health has a Nurse Leader Academy to develop nurse leaders at all levels of our organization.
Nurse Manager Leader Development Forum
Nursing Managers and Directors have the opportunity to meet, collaborate with, and grow with other Nurse Managers and Nurse Directors from across 10 hospitals in 4 states during our Two-Day Nurse Manager Leader Development (NMLD) forum. The forum provides learning opportunities in quality, patient safety, organizational change, finance, employee engagement, patient experience, emotional intelligence and much more. In addition, Nurse Leaders participate in a panel discussion with healthcare executives from across multiple disciplines and from Prospect Medical Holdings' Corporate office in order to learn and grow together.
Nurse Leader Development series
The Nurse Leader Development Webinar series allows all Nurse Leaders to select the webinar day any time that best fits their schedule and from their computer learn about relevant issues facing Nurse Leaders today. One contact hour is provided for every webinar attended. Examples of webinar topics have included: Tackling Incivility, Nurse Well Being: The Ten Things Every Nurse Leader Should Know, Recruitment and Retention of the Millennial Generation.

Join our nursing team today
Crozer Health has full and part-time nursing positions available.
If you are a new grad or an experienced RN, we have a great opportunity for you.