Outreach and Education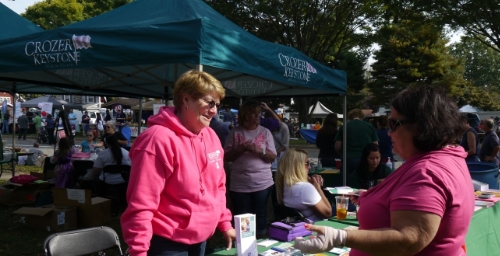 Our goal is to educate the local community about the importance of early detection of cancer. Crozer Health staff surveys Delaware County and the state to identify the most common cancers. Using this data, we develop community outreach events and education programs. Current efforts focus on breast, colorectal, prostate, skin and lung cancers.
In addition to these outreach events, Crozer Health also offers educational programs and cancer screenings at our hospitals and outpatient centers.
Our current cancer programming includes:
Breast Cancer Awareness: Throughout the year, we offer educational sessions, Pink in the Park events, mammography events and screenings for uninsured and underinsured women in Delaware County.
Colorectal Cancer Awareness: We offer educational sessions and special events in March to honor Colorectal Cancer Awareness Month.
Lung Cancer Awareness: Educational sessions, community outreach events and low cost/low dose lung screenings to high-risk patients.
Prostate Cancer Awareness: We offer prostate screenings as part of our regular comprehensive screening events throughout the year.
Skin Cancer Awareness: We offer sun safety education events and skin cancer-screening events.
Passport to Health
Since 2005, we have offered this program to Delaware County schools through our current partnerships, Fox Chase Crozer Health Cancer Partnership, TD Bank and First Niagara. Designed for third, fourth and fifth graders, Passport to Health educates students about healthy behaviors that could help lower their risk of cancer later in life.
Every month, participating schools receive an activity packet that includes information and kid-friendly worksheets on topics such as genetics, lung cancer and tobacco, exercise, diet and nutrition and sun safety. Students work with the packets during classroom downtime and Crozer Health collects the packets monthly and delivers a new packet.
This program has grown from just five schools in 2005 to 26 schools today, with 5,700 students participating.
Contact Us
Marie DeStefano, RN, MSN
Senior Administrative Director, Oncology
(484) 446-3634
marie.destefano@crozer.org
Debbie Simon
Oncology Community Education/Outreach Specialist
(484) 446-3647
debra.simon@crozer.org
Contact Us
The Crozer Health Cancer Care team is ready to help. Call 1-866-695-HOPE (866-695-4673), or use our convenient online request form.