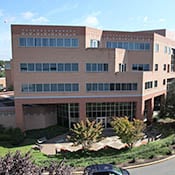 Crozer Health Regional Kidney Transplant Center
1 Medical Center Blvd.
POB II, Suite 220
Upland, PA 19013
Request an appointment
Contact Info
Main Line: 610-619-8420
Fax Line: 610-619-8421
Patient, Family & Visitor Information
At Crozer, we want your experience at our hospital to be a positive one, and the Kidney Transplant Team works closely with all areas and staff within the hospital to achieve this goal. Our commitment to patient satisfaction and the patient experience extends to your family and visitors, too.
Contacting Your Transplant Coordinator
Your Transplant Coordinator is available if you have any questions or concerns, and you may, of course, contact any member of the Kidney Transplant Team at any time with your questions.
The staff at the Kidney Transplant Center will answer all calls between 9 a.m. and 4 p.m., Monday through Friday, except holidays. The Transplant Office number is 610-619-8420.
The Transplant Coordinators will return these calls at their earliest convenience, usually the same day that you call. Leave your name and telephone number where you can be reached. Try to be as specific as possible when you leave your message. Your call will be returned during the next business day. If you need to speak to a Transplant Coordinator during weekends, holidays or after hours, ask the answering service to page the Coordinator, who will return your call. If you have call block, please remember to remove it when expecting a call from our staff.
Emergencies
In an emergency: Call 911 immediately.
In the event of a life-threatening emergency, such as chest pain, coma, breathing problems, or bleeding, call 911 and they will take you to the nearest hospital emergency room. You and your family should always ask the physicians in the emergency department to call the Crozer Health Kidney Transplant Center, but DO NOT try to drive to Crozer Health in an emergency. Call 911.