Emergency Care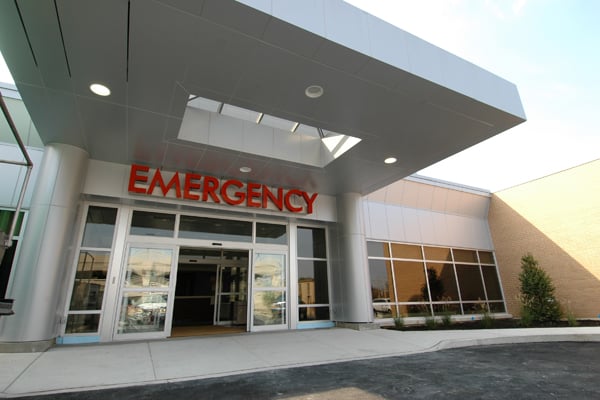 As the leading health care provider in Delaware County, Crozer Health proudly serves the people of Delaware County with two full-service emergency departments open 24 hours a day, seven days a week.
For decades, we have responded to the community's emergency care needs at our hospitals in Drexel Hill, Ridley Park, and Upland. What you can expect at a Crozer Health Emergency Department:
Patient-Centered Care: Our experienced, caring team of physicians, nurses, respiratory therapists, social workers, and others are dedicated to providing an excellent patient experience.
Tertiary Care: We are proud to offer the county's only burn and trauma centers. Our experienced teams have been caring for the region's most critically injured patients for decades at Crozer-Chester Medical Center.
Patient Navigation Services: Whether lending a hand with follow-up doctor visits, assisting with medications, or imparting words of comfort, these caring specialists help bridge the gap from emergency care to recovery.
Convenience: Our goal is to see patients within 30 minutes. Our fast-track treatment areas help us to quickly care for patients with minor injuries/illnesses.
Specialized care: We also offer specialized care for children and seniors. At Crozer, pediatricians are available to care for patients each day in addition to our emergency physicians. Also at Crozer, senior patients benefit from specially equipped patient rooms as well as the assistance of a Geriatric Coordinator, who performs many duties to assist patients.
First Responders: Our dedicated Emergency Medical Services (EMS) and Critical Care Ambulance Service provide compassionate emergency care and transport.
Primary Stroke Center: Crozer, Delaware County Memorial Hospital, and Taylor Hospital have met the rigorous requirements to be designated as Primary Stroke Centers by the Joint Commission, meaning that patients who come to these hospitals for stroke care have a better chance for a favorable outcome and a lower risk of complications.
From emergency response to intensive care to rehabilitation, we provide state-of-the-art emergency care from an experienced multidisciplinary team of physicians, nurses, respiratory therapists, radiologist, social workers and other healthcare professionals. Crozer Health treats nearly 129,000 patients each year across our four emergency departments.
When to Go to the Emergency Department
If you feel sick, in pain or simply uncomfortable, you probably want to take care of the health issue at the root of it right away. Between retail clinics, urgent care centers and emergency departments, you have a lot to consider for where and how to get immediate treatment.
While the reality is most health problems are not emergencies, sometimes you need to head to the emergency room. Emergency Doctors are trained to differentiate minor ailments from major ailments and they are trained and equipped to treat all of them.
Learn the symptoms and conditions that most doctors agree should always be treated as emergencies and signal you to get to an ED.
Visiting the Emergency Department
Emergency situations are difficult for all involved and the care process can feel overwhelming at times. We have provided the following information to help you navigate this process and understand what to do when you arrive, as you register and when you are discharged.