Main Line Today Top Doctors Survey Honors 105 Crozer Health Physicians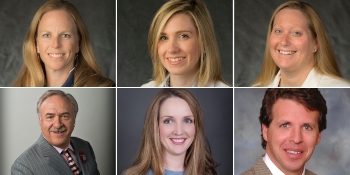 Main Line Today posted its "2019 Top Doctors" this month, which is derived from an online survey that asks physicians who they most trust. In this year's results, 105 Crozer Health doctors were voted onto the list, including six who received the most votes in their specialty. Our six top scorers in their specialty are (alphabetical by specialty):
Sarah Falgowski, M.D., in Addiction Medicine;
Kathryn Beldowski, M.D., in Geriatrics;
Sunny Fink, M.D., in Oncology: Hepatobiliary;
Lee Osterman, M.D., in Orthopedics: Hand and Wrist;
Kelly Scollon-Grieve, M.D., in Orthopedics: Physical Medicine & Rehabilitation; and
Kurt Muetterties, M.D., in Radiology.
Of our 105 Top Doctors, 22 of them are new to the list. Broken down by specialties, the following are also notable:

An additional four Crozer Health physicians were voted to the Main Line Today list of children's doctors:
The Main Line Today list for adult specialties in its entirety can be found here, and here for pediatrics. You can also find Crozer Health Top Doctors according to Main Line Today and Philadelphia magazine in the health system's website.