Crozer Health Recognizes Lori Conrad R.N. as DAISY® Award Recipient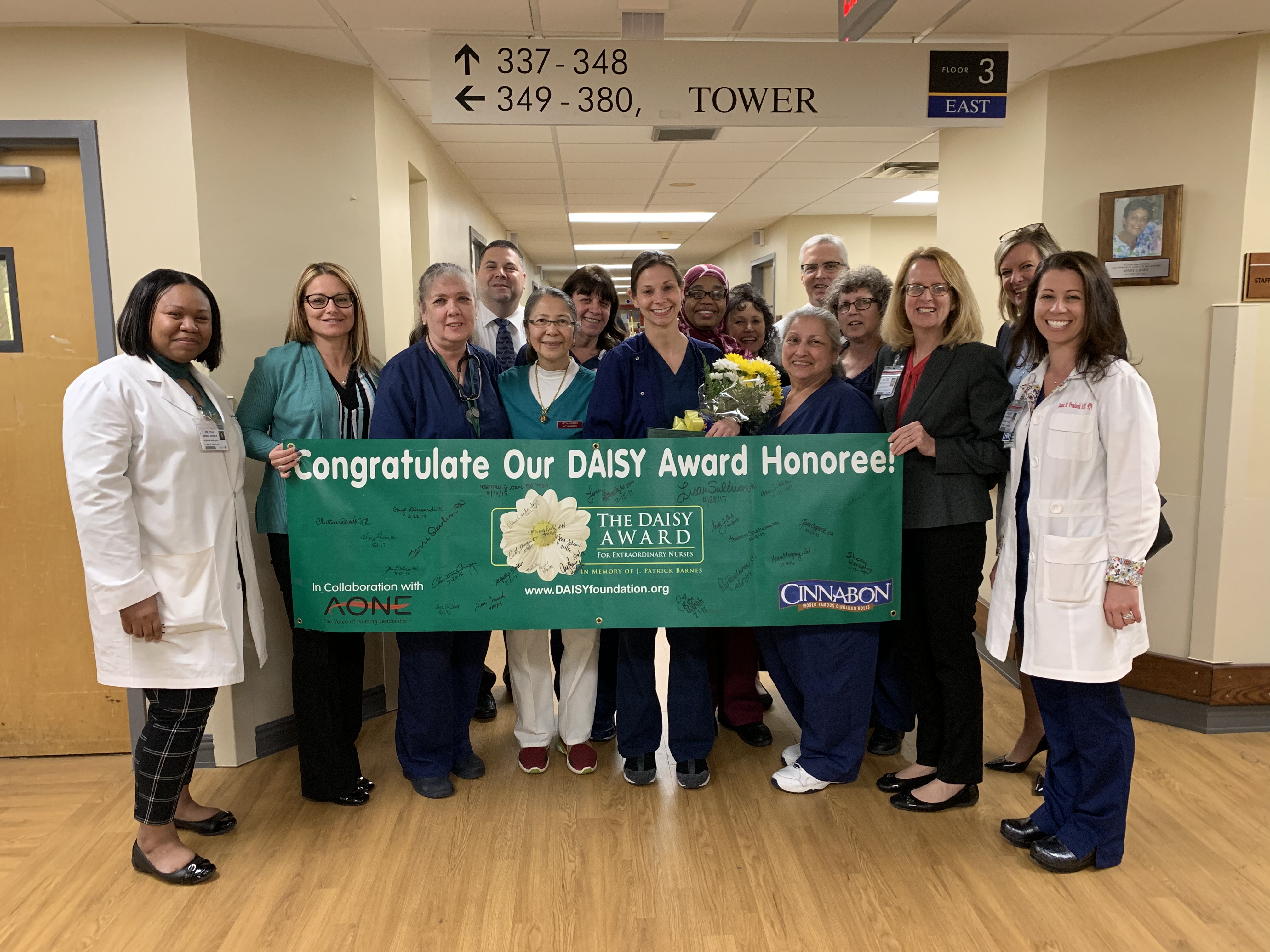 Crozer Healthrecently recognized Lori Conrad R.N., from 3 East at Delaware County Memorial Hospital, as a recipient of The DAISY® Award.
The DAISY® Award is a program that recognizes excellence in nursing and was created by The DAISY® Foundation to highlight the clinical skills, extraordinary passion, and care exemplified by nurses every day. Award recipients consistently demonstrate each of the following criteria: Dedicated, Autonomous, Innovative, Selfless and Extraordinary.
Lori was nominated for The DAISY® Award by a patient at Delaware County Memorial Hospital for the compassion and comfort she provided during their visit. "I am incredibly fortunate to have had Lori as my nurse twice in the last six months. Lori is one of the few nurses who go above and beyond for their patients. Lori always entered the room with an upbeat tone and answered all of my questions. Her knowledge and level of care were exceptional," the patient said. "On one occasion, Lori was assigned to a different floor and was not my nurse. I was a little disappointed because I knew I was in great hands with Lori – she always provided a superior level of comfort. Despite her assignment, Lori made it a point to stop by on her own time to see how I was doing – this meant the world to me! It may seem like a small gesture, but this act of kindness assured me Lori was 100% committed to my care and well-being. I cannot think of a better example of what the Daisy Award symbolizes. Thank you, Lori, for being an outstanding nurse. Your selflessness and dedication truly made a difference in my recovery and experience."
"Lori is an incredible nurse. She is smart and resourceful. Lori is consistent with bringing forward critical issues that may affect patient care," says Jenea Dozier, MSN, R.N., PCCN, NEA-BC, Clinical Director, 3 East, 3 Telemetry, and R.N. Casual Pool at Delaware County Memorial Hospital. "Lori's nomination comes as no surprise. Even when Lori is having a challenging day, her primary focus is to deliver safe, high quality, patient care while ensuring her patient's overall experience is nothing less than excellent!"
The DAISY® Foundation and The DAISY® Award
The not-for-profit DAISY® Foundation was established by family members in memory of J. Patrick Barnes, who died in 1999 at the age of 33 from complications from an autoimmune disease. The care that Barnes and his family received from nurses throughout his illness inspired this unique means of thanking nurses for making a profound difference in the lives of their patients and patient families.
Each DAISY® Award honoree is recognized at a public ceremony on his or her unit and receives a certificate, a DAISY® Award pin, and a beautiful hand-carved stone sculpture. In addition, the unit celebrates their colleague's achievement with Cinnabon cinnamon rolls, which were a favorite of Patrick's during his illness.