Crozer Health Recognizes Donald Webb R.N. as DAISY® Award Recipient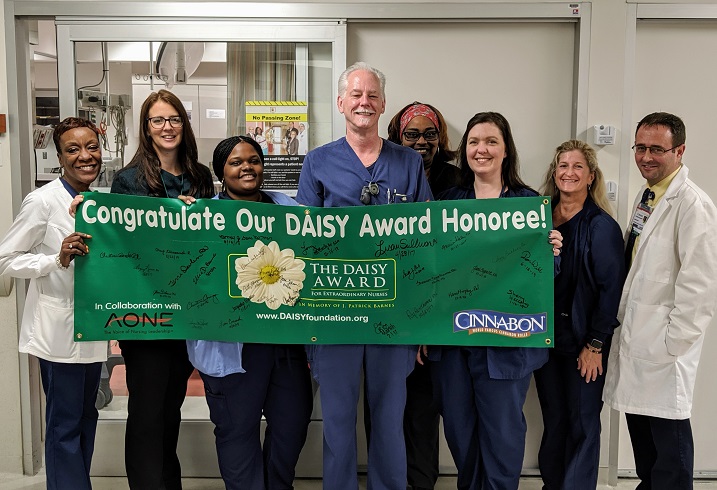 Crozer Healthrecently recognized Donald Webb R.N., from the Emergency Department at Crozer-Chester Medical Center, as a recipient of The DAISY® Award.
The DAISY® Award is a program that recognizes excellence in nursing and was created by The DAISY® Foundation to highlight the clinical skills, extraordinary passion, and care exemplified by nurses every day. Award recipients consistently demonstrate each of the following criteria: Dedicated, Autonomous, Innovative, Selfless and Extraordinary.
Don was nominated for The DAISY® Award by a patient at Crozer-Chester Medical Center for the compassion and comfort he provided during their visit. "I have a myriad of health problems and frequently visit Crozer's ED. The first time I met Don, I knew I was in good hands. I am currently in recovery and one year clean. However, I was still in active addiction when I first met Don. Never once did Don judge me or make me feel like a less than valuable person," the patient said. "Throughout my recovery journey, Don always asked: 'how ya doing?' 'Staying strong?' 'You've got this girl!' 'You can do it!' As far as Don's skill set – as a former IV drug user, I have very little vein access. Every other nurse or doctor I've dealt with struggled to access my veins and had to use an ultrasound. Not Don – he succeeded on the first try. In fact, if Don is on duty, I will not let anyone else even attempt to access my veins. Don is the perfect balance of professional, experienced, but still down to Earth - he is just an overall good human being. I feel very strongly that Don is an excellent role model with a lot to offer new nurses. I can't say enough positive things about my many encounters with Don. He is the epitome of what a nurse should be!"
"Don truly is a valuable asset within the Emergency Department. His skill and compassion for our patients represent the care in which we strive to deliver," says Tom Mckniff, Clinical Director in the Emergency Department at Crozer-Chester Medical Center. "In addition to being an advocate for our patients, Don is also an excellent resource for new nurses within the emergency department. It is a great honor to have a member of our team chosen for this award. I am proud that Don was recognized for his exceptional patient care."
The DAISY® Foundation and The DAISY® Award
The not-for-profit DAISY® Foundation was established by family members in memory of J. Patrick Barnes, who died in 1999 at the age of 33 from complications from an autoimmune disease. The care that Barnes and his family received from nurses throughout his illness inspired this unique means of thanking nurses for making a profound difference in the lives of their patients and patient families.
Each DAISY® Award honoree is recognized at a public ceremony on his or her unit and receives a certificate, a DAISY® Award pin, and a beautiful hand-carved stone sculpture. In addition, the unit celebrates their colleague's achievement with Cinnabon cinnamon rolls, which were a favorite of Patrick's during his illness.