Cardiac Hybrid Operating Room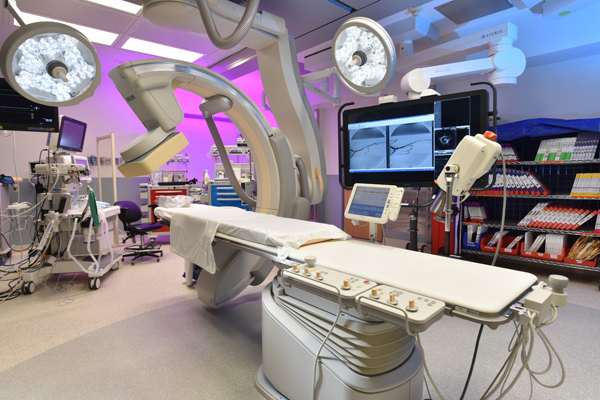 Crozer-Chester Medical Center offers a state-of-the-art hybrid operating room (OR) for minimally invasive vascular and cardiac procedures. The system incorporates the latest advances in computer and imaging technologies to give surgeons exceptional control and clear three-dimensional views similar to those obtained in traditional open surgery.
How the System Works
A revolutionary alternative to conventional operating rooms, the Hybrid OR is equipped with a large fixed imaging system that supports high-quality interventional imaging for complex open and minimally invasive surgeries.
The room's state-of-the-art 3D imaging techniques allow surgeons to better visualize body parts, small blood vessels in heart muscles. Patient benefits include smaller incisions and shorter recovery times.
Our Team
The OR is used by vascular surgeons, interventional cardiologists, cardiac surgeons and interventional radiologists. Our experienced surgical support team has also received special training and is equipped to provide optimal care.
Procedures include peripheral vascular interventions procedures to major heart/great vessel procedures. In addition to performing standard surgical procedures, physicians can perform:
Endovascular aortic repair (EVAR)
Peripheral artery angioplasty and stent placement
Carotid artery stent placement
Transcatheter aortic valve replacement (TAVR)
Percutaneous closure of heart defects
Are You a Candidate?
Not every patient is a candidate for minimally invasive surgery. Together with your physicians and surgeon, our team will assess which approach is best for you.