Holidays and Hospice: Making Time Count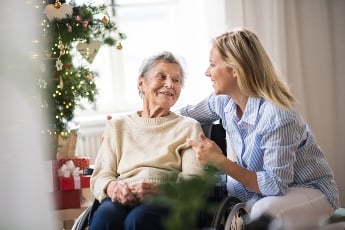 The holidays are supposed to be a time of happiness and joy. This can be a challenge when a loved one is terminally ill.
"Holidays often take on a new or special meaning when someone is in hospice and nearing the end of their life," said Daniel DuPont, D.O., FCCP, associate chair of clinical medicine at Crozer-Chester Medical Center and medical director of the inpatient hospice unit for Crozer Health . "Many times, families aren't sure how to celebrate the holidays under these circumstances."
Dr. DuPont's advice: honor the wishes of the patient.
"It's all about the patient at this point," he said. "What does that person want to do – hold a big holiday gathering or a low-key celebration? Whatever the answer, that's what you should do."
For caregivers, the holidays can be especially stressful, said Dr. DuPont. In many cases, they are balancing the care of a loved one with the increased demands that the holidays bring. That is why he advises caregivers to make time for themselves.
"Many caregivers are exhausted by the journey their loved ones are on, but it's critical that they not ignore their own needs or the needs of other family members," he said. "Reserve some time for yourself, ask for help, eat right, continue exercising, and allow yourself to indulge in something that makes you happy."
If a loved one has recently passed away, family members are often left wondering how—or even if—to celebrate the holidays. According to Dr. DuPont, think about what the departed family member would want.
"In almost every case, the person who passed would want the family to enjoy the holidays," he said. "This can be a wonderful time of year to honor relatives who are no longer with us and carry on the family traditions they enjoyed or maybe even created."